Getting Your Piece Of The Pie After It Gets Taken Away From Somebody Else
Housing Works CEO Charles King, left, agreed to going along with making $17 billion in healthcare cuts. Stephen Berger is a budget hatchet man, who leads a special subcommittee of neoliberal Gov. Andrew Cuomo's controversial Medicaid Redesign Team trying to close hospitals in Brooklyn. Thomas Farley, right, is the do-nothing city health commissioner responsible for continuing years of municipal policy that failed to keep community hospitals open or to finally develop a comprehensive, city-wide AIDS agenda.
Word on the Street : Whereas Mayor Bill de Blasio doesn't have enough money to make good on unions' demands for retroactive backpay and raises, he's in a quandary about how to bring down the unions' demands, but still make them feel like he "appreciates" them.
Whereas Mayor de Blasio keeps being all talk about his "progressive reform agenda," he's rightly raising expectations amongst reform activists that he's actually going to deliver changes on major social, legal, and economic issues that went neglected for the last 20 years of Republican City Hall rule.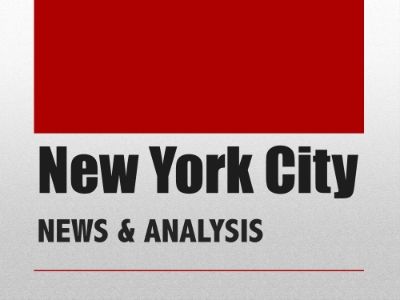 Now, therefore, the intersection of these two circumstances is creating a troubling development : There's talk amongst some political insiders that Mayor de Blasio may offer one union largely responsible for his electoral win with a lower contract in exchange for being given backroom access to selecting one of the city commissioners that would have some oversight of that union.
Isn't this how Wall Street games the system ? We already have Scott Stringer, a slimy career weasel, in charge of the Comptroller's Office. Knowing Stringer's situational ethics, he's no doubt ready to sell access and influence in exchange for campaign donations to make another campaign run for higher office the next time the situation presents itself. We say that this is wrong when it is done by the political right, or by the 1%. But what happens when it's done by the left ?
A sordid theory about how corruption spreads : dividing the community for expedient political gain, leaving everybody triangulated from criticising the corruption.
1199, formerly headed by Obama administration political operative Patrick Gaspard, is a close advisor to Mayor de Blasio. Judging by how Mr. Gaspard sold out on his union's dedication to healthcare advocacy by agreeing to the wave of Berger Commission hospital closings ordered by former Republican Gov. George Pataki and by Gov. Pataki's own political operative, Wall Street investment banker Stephen Berger, Mr. de Blasio is hoping to resurrect the evil playbook of corruption in the contract negotiations between City Hall and 1199.
Here's how.
Trading A Lower Labor Compensation Contract In Exchange For Naming The Next Health Commish
Corruption doesn't have to always be about breaking the law, it could be about corrupting the democratic process that should be at the start be advocating transparency and a fully public participation in all decisions in matters of the public's own governance, especially major decisions, like picking the next city health commissioner. This role is vital, and the fact that we've had Thomas Farley for the last four years, only shows the kind of damage that having an impotent health commission can cause : Mr. Farley has not done one thing to stop the lingering Berger Commission hospital closings, nor the next wave of hospital closings called for by neoliberal Democratic Gov. Andrew Cuomo under his own Berger-like apparatus, the Medicaid Redesign Team.
How bad would it really be if 1199 gets given the right to pick the next health commissioner in exchange for accepting a lower labor compensation contract from Mayor de Blasio ?
For one thing, how do we know that the political direction of 1199 will act independently in the best interests of the patients it cares for ? Or how about making sure that the political leadership of 1199 will make decisions independently in the best interests of its membership ? Under Mr. Gaspard, the union never challenged the Berger Commission hospital closings, and it even took a seat at the table for the Medicaid Redesign Team. George Gresham, the President of 1199 SEIU United Healthcare Workers East, sits on the MRT panel.
As much as I am pro-labor and pro-letting labor get an inside track to making major political decisions, what troubles me is that 1199 is not independent. It was a major political supporter of the mayor, back when he was a no-hope candidate, so far distant from the front-runners that nobody took him seriously. In getting the chance to pick or vet the next health commissioner, can 1199, based on its track record, really and truly be counted on doing the right thing for the emergency room-full service hospital needing public ? Or is it going to make a deal that will catapult its current top crop of political directors into their next jobs, like, say, the next presidential campaign political consultant, White House political director, or ambassador to South Africa ?
Why is nobody asking why is Mayor de Blasio linking labor compensation contract negotiations with picking the next healthcare commissioner ? It's because Mayor de Blasio plans on being disingenuous in his union contract talks, and it matters naught to the mayor that he's going to divide the community by confusing discussions that should only be about backpay and raises with picking the next health commissioner. If the mayor cared about public input, he would automatically -- and without needing to subvert important agency picks as bargaining chips -- involve all stakeholders in his decision-making for the next health commissioner. That is to say, the public AND 1199 AND critical healthcare community groups should have a say in the next healthcare commissioner at the same time when the mayor should be having rigorous union contract talks with 1199. One has nothing to do with the other. But this kind of mentality, of offering two birds in the bush for one in the hand is what dishonest negotiations are all about. Rather than have 1199 say, "Yes, and …," you had the mayor saying, "No, but…."
Other Examples of How Critical Healthcare and Social Services Decisions Get Made Half-Assed By "Community Leaders," With No Full Public Involvement or Accountability // The Hunger Games
This kind of offering one group a piece of pie only after having first withdrawn that same piece from somebody else is what happened when some large New York City community and non-profit organizations went along with the Medicaid Redesign Team's cuts to healthcare for the poor in exchange for a few coins for homeless housing programs. Again, you had community groups agree to Gov. Cuomo's draconian austerity plans of closing more hospitals in New York City and making other healthcare cuts valued at upwards of $17 billion, over time, and for giving the sleazy neoliberal governor political cover to make these cuts, groups like Housing Works and GMHC were made promises that Gov. Cuomo would make a few million dollars available to homeless housing programs. Groups like Housing Works and GMHC have the provision of healthcare for the poor and the disenfranchised as part of their mission, but look at how they agreed to actions that were in contravention to other healthcare groups, with similar missions. Indeed, one need not look any further than how St. Vincent's Hospital, a former comprehensive AIDS center, Level I Trauma Center, and full-service hospital with a large HIV/AIDS patient load, was shut down under the calls for hospital closings. Don't these groups see that we are shooting ourselves in the foot ? Why does having to close hospitals be linked with making money available for homeless care programs ? What does one have to do with another ? We should be fighting for a healthcare system that covers everybody at the same time when we are fighting for the full resources to provide shelter to people, who are homeless. But only politicians, who are interested in expedient political gains would try to subvert one important community issue to another, and community group leaders should not be going along with this kind of corruption.
Another example comes to mind when the head of one homeless LGBT youth program turned on the head of another, all because politicians divide us, make us fight, for the crumbs that they throw at us.
But there is hope. Some groups, like the Legal Aid Society, and bloggers can reframe the conversation about budget cuts, failed government responses to the major social, legal, and economic issues of our time. The Legal Aid Society recently sued the city over its abdication of responsibility for providing shelter to homeless youth. Rather than being a victim to the rigged budget negotiations, the Legal Aid Society decided to make a demand for the FULL resources to address the problem at the same time when all we get is lip service that we can count on a truly progressive reform agenda from the de Blasio administration. If the public were truly able to see that backroom political machinations of insiders, operatives, and lobbyists don't fully answer the social, legal, and economic problems of our time, then the public would know that one of the first reforms we need is to demand a fully transparent and accessible process on every major de Blasio administration pick, especially with regard to the selection of the next health commissioner.
What's going to happen when the full membership of 1199 learns that their leadership may already be agreeing to undercut their labor contract negotiations ?
And what other healthcare advocacy groups, let alone the public itself, should have a seat at the table of talks if the mayor is convening such an apparatus for picking the next health commissioner ? ACT UP comes readily to mind. Who else ?
Making Matters Worse Than Patrick Gaspard Is Stanley Brezenoff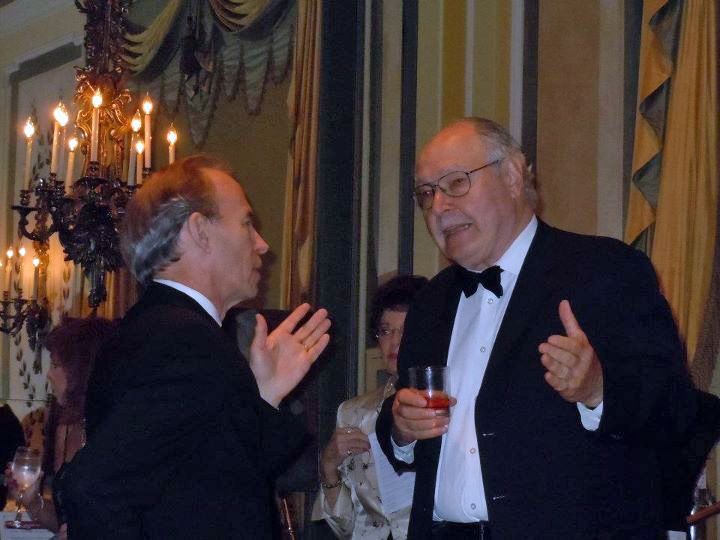 James Capalino, the real estate lobbyist, left, with Continuum CEO Stanley Brezenoff. Capalino was a paid lobbyist for the Rudin Family in their controversial $1 billion luxury conversion of St. Vincent's Hospital into an exclusive condo complex. Brezenoff raided the trust fund of Long Island College Hospital in an effort to suck it dry of resources.
Mr. Brezenoff, the head of Beth Israel Medical Center, may be on the outs with Continuum, Beth Israel's parent holding company, following the takeover by Mt. Sinai Medical Center of Continuum's hospitals. Likely trying to make a transition back to head the New York City Health and Hospitals Corporation, a position he once head in the early 1980's, or possibly as the next health commissioner, Mr. Brezenoff has already wormed his way into an unpaid advisory capacity to the de Blasio administration's new First Deputy Mayor, Anthony Shorris. When he was head of HHC during the early years of the AIDS crisis in New York City, Mr. Brezenoff failed to get in front of the outbreak, treatment, and prevention of AIDS. He has a record of failure in respect of public health. Why would Mayor de Blasio pick him ? Let's examine the kind of political machinations that would go into a decision like this….
Maybe Mr. Brezenoff's new administration position is meant as a stick to 1199 that any role that the union may be offered to have in picking the next health commissioner may be the union's effort to block Mr. Brezenoff from a higher healthcare capacity with the de Blasio administration ? Mr. Brezenoff's controversial role in trying to raid LICH, for example, of its assets would scare -- and distract -- any reasonable union to want to block his return to any supervisory role in formulation government healthcare policy.
What a wicked web we weave …. Let's hope the union membership are smart enough to demand transparency from their political operatives, the same way the public and community groups should demand transparency from the de Blasio administration, the same way that the Legal Aid Society didn't accept a bullshit government response to the homeless youth issue of today. There is a way to get to the root of the social, legal, and economic problems we face : we just have to have the courage to not let our demands for a full solution be subverted by either slimy politicians in exchange for "insider access," like the current 1199-health commish trade off that is being discussed around town, or by failed community group leaders in exchange for political protection, like the "What's in it for me" Patrick Gaspard model that other non-profit organization leaders are adopting with greater frequency.
If everybody would just focus on the fact that we are all in this together -- that we are all involved in one struggle to make the city/world a better place -- we wouldn't let slimy politicians and their political enablers subvert our needs. The "Yes, and" model is one of faith : there are enough resources for everybody. If we accept the "No, but" model from politicians, we'll never find the answers we seek, and, worse, we'll sabotage other activists and groups trying to seek the answers for their own issues. We have to be in this together, for one another, if we want to make a difference.