---
SPECIAL NEWS UPDATE: FRI, 25 APR 2014, 09:50 AM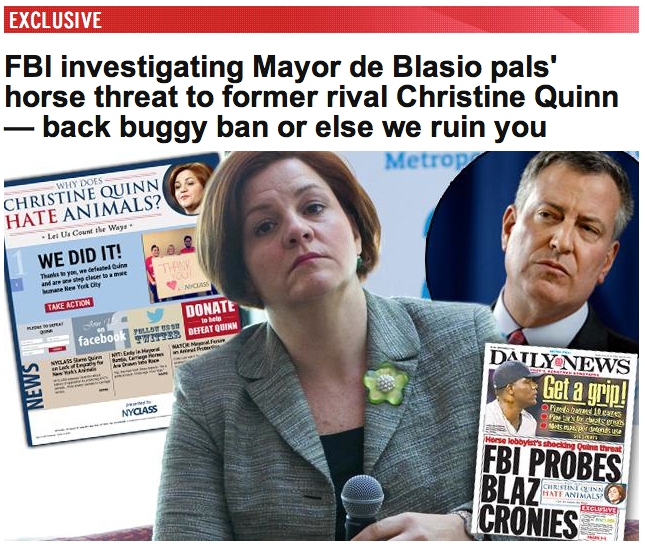 In the past few weeks, FBI agents have been asking questions about the campaign by the animal rights group NY-CLASS to strong arm former Council Speaker Christine Quinn (center) to support a ban on the iconic horse-drawn carriages, two sources familiar with the matter told The New York Daily News. The horse lobbyists in question include Scott Levenson, and they are linked to Mayor Bill de Blasio (inset). (FBI investigating claim that Christine Quinn was threatened by Scott Levenson for refusing to support carriage horse ban during the mayoral race * The New York Daily News)
---
PUBLISHED : WED, 19 MAR 2014, 09:07 AM
UPDATED : FRI, 25 APR 2014, 05:40 PM
Super PAC's already lead to corruption, regardless whether annual individual contribution cap is kept at $150,000 or is raised.
Federal prosecutor crackdown on campaign finance corruption said to ensnare Rep. Michael Grimm http://t.co/8DiId2wbiO

— Informed Voting (@informedvoting) April 25, 2014
Campaign finance expert and Georgetown University government professor Clyde Wilcox added the authority of his expertise to a filing made by New York State Attorney General Eric Schneiderman in an effort to block a "Republican-backed political action committee to topple the state's $150,000 annual contribution limit for individuals," The New York Daily News is reporting.
From yesterday MT @josephax: Era of the super PAC in New York? Judge strikes down NY limits http://t.co/wPt6EXfoB7

— Lawrence Hurley (@lawrencehurley) April 25, 2014
Professor Wilcox warned that many Super PAC's "would be closely linked to individual candidates or to political parties," inviting quid-pro-quo corruption, The New York Daily News report added.
NYC Is Not For Sale, "a coalition of left-leaning unions, Democratic donors and animal rights groups," according to a report by The New York Daily News, spent $1.1 million broadcasting several TV commercials that were critical of former Council Speaker Christine Quinn in an effort that ultimately boosted Public Advocate Bill de Blasio's mayoral campaign. As if validating Professor Wilcox's fears, in the days leading up to the general election last November, a Republican political activist filed a complaint with city campaign finance regulators, accusing Mr. de Blasio and key supporters of illegally coordinating the activities of the NYC Is Not For Sale Super PAC that spent more than $1 million attacking former Speaker Quinn in the Democratic primary race for mayor, The New York Post reported.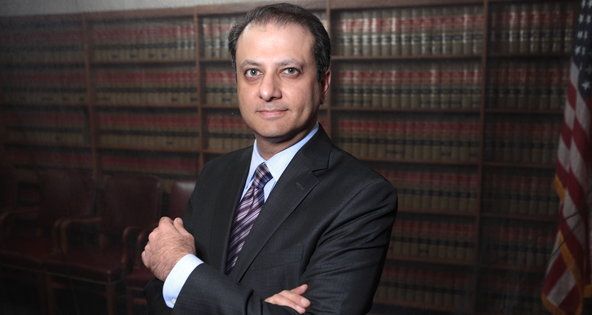 As it stands, city and state campaign finance regulators are being pressed by wealthy campaign contributors, big business interests, and corrupt lobbyists to weaken campaign reform laws under the false guise that caps on contributions "unconstitutionally restricts free speech." The only truly impartial and independent authority to enforce regulations is the U.S. Attorney's Office. Pending before those federal prosecutors is a complaint, asking that the Department of Justice determine whether Super PAC's and their lobbyists broke federal laws pertaining to bribery and the illegal coordinating of Super PAC activities with official campaign activities.
2014-03-12 New York Progress and Protection PAC - Declaration of Clyde Wilcox (57)
2014-03-17 New York Progress and Protection PAC - Defs Memo of Law Opposing MSJ (53)