Fight For NYCHA - Updates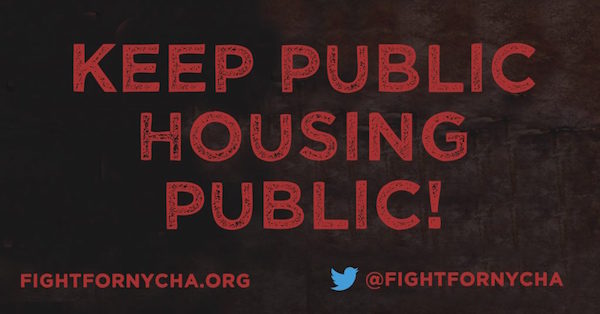 The Daily News publishes our editorial
Many groups have now jumped on the cause of saving public housing in New York City. But few dare to stand up to Mayor Bill de Blasio, the man primarily responsible for strong-arming tenants into becoming part of Rental Assistance Demonstration (''RAD''), the federal government program that moves public housing into private management. RAD hikes rents and fuels evictions. Find out how U.S. Attorney Geoffrey Berman let down NYCHA tenants and what a large nonprofit did to prop up a politician guilty of turning his back on NYCHA residents. There is a real danger that Mayor de Blasio will end public housing as we know it. We urge New Yorkers of goodwill to join us to save NYCHA.
An updated People's Budget was adopted at the Fight For NYCHA town hall meeting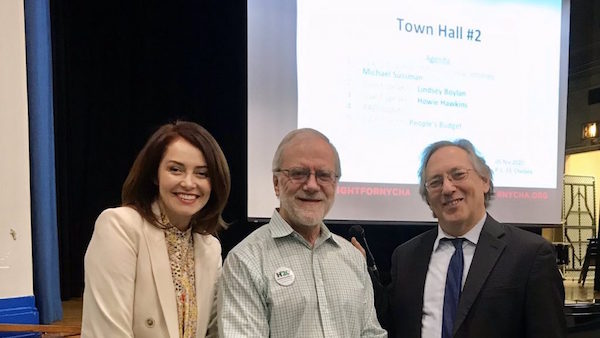 The guest speakers at our town hall meeting included Lindsey Boylan, Howie Hawkins, and Michael Sussman.
The update to the People's Budget consisted of adding : (i) the conservative estimated cost of developing Sunnyside Yards and (ii) U.S. Rep. Nydia Velazquez's bill (H.R. 4546), the latter which would fund capital repairs at NYCHA, showing that over $440 billion is available for new Government policy on housing, justice, and dignity. The People's Budget is a package of ideas for legislation that will raise taxes on the rich and reallocate funds from gentrification development plans to fully-fund public housing and forge new Government policy based on justice and dignity.
Media Report
Fight For NYCHA need your support
Fight For NYCHA have announced plans to begin direct action, if necessary, to stop Mayor de Blasio's plans to expand RAD to NYCHA. We are looking for immediate fiscal sponsors. If you are able, please consider making a donation to our supplies expense Go Fund Me. Stay tuned for our next announcement of a direct action planning workshop.
Fight For NYCHA is a collective of tenants, activists, artists, and advocates, who are providing technical support to NYCHA tenants to self-determine the future of public houisng in New York City. We oppose Mayor Bill de Blasio's plan to put 1/3 of NYCHA into the hands of private landlords. We reject Mayor de Blasio's proposal, because the money exists to save NYCHA. We just have to change our priorities. Learn more about our People's Budget to fully-fund NYCHA.
# # #
Visit : Fight For NYCHA | Twitter | Facebook
This was a sponsored message sent to you by Progress New York.
Have you become uninterested in participating in your own governance ? Unsubscribe.