---
SPECIAL NEWS UPDATE: FRI, 25 APR 2014, 09:50 AM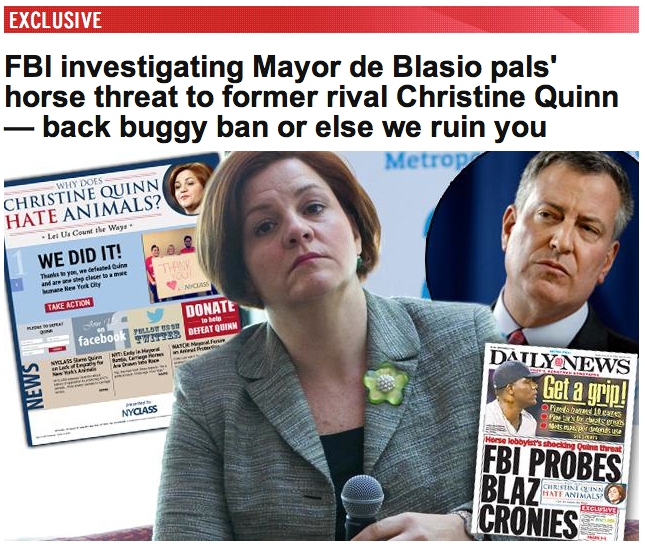 In the past few weeks, FBI agents have been asking questions about the campaign by the animal rights group NY-CLASS to strong arm former Council Speaker Christine Quinn (center) to support a ban on the iconic horse-drawn carriages, two sources familiar with the matter told The New York Daily News. The horse lobbyists in question include Scott Levenson, and they are linked to Mayor Bill de Blasio (inset). (FBI investigating claim that Christine Quinn was threatened by Scott Levenson for refusing to support carriage horse ban during the mayoral race * The New York Daily News)
---
Were Possible Coordination of Independent Expenditures and Free Gifts of Lobbying Services Violations of Federal Laws ? Will the Moreland Commission Investigate Possible Campaign Corruption ?
The Civilian Crime Report filed yesterday with the U.S. Attorney's Office for the Southern District of New York was forwarded today to certain members of the Moreland Commission. As the Moreland Commission continues its work to investigate public corruption, will it examine The Advance Group's role in the recent past New York City municipal elections ?
2014-01-22 Gmail - Referral to Moreland Commission : The Advance Group
2014-01-20 the Advance Group USAO SDNY Civilian Crime Report
Prior to the backroom deals that selected Melisa Mark-Viverito as the new Council speaker, she had accepted unpaid assistance from The Advance Group, a prominent lobbying firm headed by Scott Levenson, the news Web site Politicker reported. (The Advance Group Helping Melissa Mark-Viverito in Speaker's Race * Politicker) After controversy erupted over Ms. Mark-Viverito's receipt of unpaid assistance from The Advance Group (City Council Speaker candidate Melissa Mark-Viverito may have violated city ethics rules * The New York Daily News), Ms. Mark-Viverito deceptively announced that she fired the The Advance Group. (Melissa Mark-Viverito Drops Advance Group for Speaker Bid * Politicker) However, Jonathan Yedin, an operative with The Advance Group, has been working in Brooklyn Democratic Party politics for more than a decade and belongs to Frank Seddio's political club. Mr. Yedin was a crucial player in brokering the backroom deal with Mr. Seddio to give Ms. Mark-Viverito the win in her bid to become the next Council speaker, sources said. (Inside Melissa Mark-Viverito's Road to Victory * Politicker) But The Advance Group was never paid for their work, according to New York State Board of Elections campaign finance disclosure records, raising the specter anew that Ms. Mark-Viverito was in violation of prohibitions on publicly-elected officials from accepting a "valuable gift" from a firm that intends to do business with the city, according to an analysis by The New York Daily News of the City Charter regulations, which include prohibitions on lobbyists from giving valuable gifts to publicly-elected officials.