---
SPECIAL NEWS UPDATE: FRI, 25 APR 2014, 09:50 AM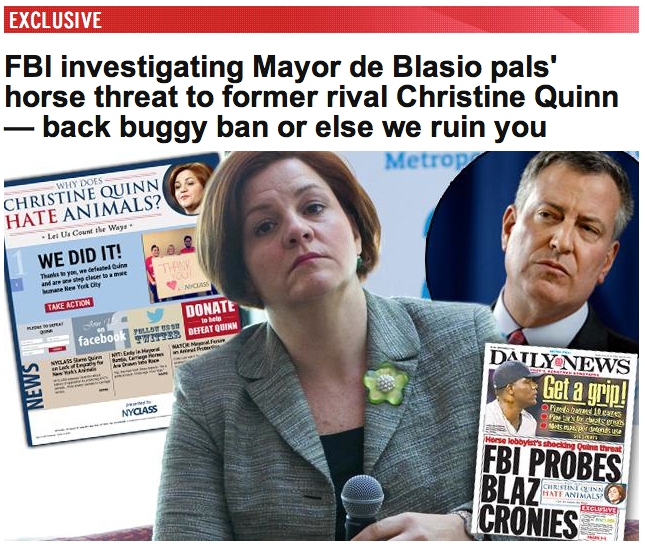 In the past few weeks, FBI agents have been asking questions about the campaign by the animal rights group NY-CLASS to strong arm former Council Speaker Christine Quinn (center) to support a ban on the iconic horse-drawn carriages, two sources familiar with the matter told The New York Daily News. The horse lobbyists in question include Scott Levenson, and they are linked to Mayor Bill de Blasio (inset). (FBI investigating claim that Christine Quinn was threatened by Scott Levenson for refusing to support carriage horse ban during the mayoral race * The New York Daily News)
---
PUBLISHED : SAT, 08 MAR 2014, 02:06 AM
UPDATED : FRI, 25 APR 2014, 12:17 PM
The mayor and his Council speaker, who both reject checks-and-balances, oversee city campaign regulators nominally tasked to investigate campaign corruption of groups with close ties to the de Blasio-Mark-Viverito administration.
In an article posted on The Daily Beast, NY1 political reporter Josh Robin reported that "city campaign regulators have begun investigating" Scott Levenson, the lobbyist-advisor to NY-CLASS, the animal rights group that organized Super PAC's to defeat Mayor Bill de Blasio's chief mayoral challenger, former City Council Speaker Christine Quinn.
Information about this investigation was first reported by Michael Powell in The New York Times back in November 2013.
When questions were first brought to the city's Campaign Finance Board about the role of Mr. Levenson and his lobbying firm, The Advance Group, doing unpaid lobbying work in the New York City Council speaker race, city campaign regulators looked the other way as Mr. Levenson provided a valuable gift to Councilmember Melissa Mark-Viverito to possibly influence her performance as Council speaker in respect of official acts that could benefit The Advance Group and its lobbying clients.
But the board members of the Campaign Finance Board are selected by both the mayor and the Council speaker, thereby preventing it from rendering an independent review of the controversies that surrounding Mr. Levenson, who likes to accept responsibly for each of Mayor de Blasio's primary win and for Ms. Mark-Viverito's selection as Council speaker. As a reward for Mr. Levenson's NY-CLASS's crucial support, the mayor attended a fundraiser for NY-CLASS, which was closed to the press. Meanwhile, Speaker Mark-Viverito, who benefitted from free lobbying work provided to her by The Advance Group, has expressed support for enacting legislation sought by NY-CLASS. This cross-support has all the appearance of a quid pro quo.
An undeniable perception exists that the Campaign Finance Board is a political organ of the occupants of City Hall. As was noted in a comment to The New York Times story, "The real scandal is the Campaign Finance Board, which spent most of its resources tracking down addresses of donors to John Liu rather than paying attention to the big money controlled by the likes of Scott Levenson." This is among the many reasons why the Campaign Finance Board cannot be trusted to lead an investigation into the co-electioneering activities of Mr. Levenson and the NY-CLASS Super PAC's.
If the Campaign Finance Board answers to the mayor and to the Council speaker and if the mayor and the Council speaker have close ties to Mr. Levenson and to NY-CLASS, then can city campaign regulations exert enough independence to fully investigate whether possible coordination of independent political campaign expenditures and free gifts of lobbying services were violations of federal laws that ban, respectively, Super PAC coordination and bribery ?
Separate from violating campaign finance laws, the role of each of Mr. Levenson and the NY-CLASS Super PAC's had damaging effects on the opportunity for reform in a post-Quinn municipal government. Because of the independent campaign expenditures that nearly totaled $2 million, the influence of NY-CLASS perverted the ability of other issue reformers from being taken seriously by the media. Witness how the media accepted the controversial appointment of William Bratton as police commissioner, even though he still supports unconstitutional tactics, such as stop-and-frisk and the broken windows theory of policing, which unfairly targets low-income communities and people of color -- but does nothing to combat the white collar crimes by political operatives or by Wall Street. Further, the NY-CLASS Super PAC's misappropriated the grassroots work by reform activists, including tenants' rights activists like John Fisher, police reform activists, QUILTBAG civil rights activists, and St. Vincent's Hospital activists, who each had separately and collectively spent years organizing to vote the former Council Speaker Quinn out of office. There was even a serialized book, recounting former Council Speaker Quinn's long record of community and political betrayals.
Using the distorting influence of Super PAC money to control media attention, political operatives loyal to Mayor de Blasio, chief amongst them, Mr. Levenson, usurped activists' abilities to continue pressing the new administration to roll out a truly progressive reform agenda, not one that has been noted to be slipshod in its attempts at "reform," like the education advocates pushing for universal pre-kinder only for New York City at the same time when those same education advocates are neglecting to call for an expansion of kindergarten to become a full-day program in its own right for the rest of New York State. While NY-CLASS awaits the enactment of its noble-minded ban on horse drawn carriages, other reform activists are left scratching their heads, wondering what happened at real attempts at government reform, like ending the Council speaker's slush fund, reforming the corrupt ULURP zone-busting approval process that continues to favor large real estate developers, the need to finally allocate all the resources that can provide shelter to the homeless, and pursuing other humane policies that would use the gains of our economy to help the people most in need.
The issue of reforming the process of zone-busting real estate development projects becomes all the more impossible with Mr. Levenson and NY-CLASS, since one of the group's founders is Steve Nislick, a real estate developer, who, in a shady confluence of events, is said to be trying to develop a zone-busting project on land currently used as horse stables for the horse-drawn carriage industry that he is coincidentally trying to outlaw. Add to that the fact that Mayor de Blasio has appeared to be courting large real estate developers and their lobbyists, such as James Capalino.
As Mr. Levenson and NY-CLASS continue to advance the narrative that the sole actions of the NY-CLASS Super PAC's defeated Speaker Quinn and helped to elect Mayor de Blasio, that should help federal prosecutors seal their investigation into coordinated campaign corruption, a karmically-doomed trap that Mr. Levenson and NY-CLASS operatives have documented in a series of press reports that they were too blind to see. But the still larger question for Democrats, who are said to largely favor campaign finance reform, is why do they accept that the Democratic mayor and his Council speaker have yet to call for campaign finance reform to end the corruptive role of lobbyists and big business and special interest money in the election system. As was noted in the comments below, if Mayor de Blasio and Speaker Mark-Viverito lack the political will to enact real campaign finance reforms on the municipal level, then they also have the option of pressing on Washington or Albany to enact federal- or state-level reforms. But all voters seem to get is nothing.