Mayor de Blasio has gone back on his campaign promise to support "hospitals, not condos." And the governor, well, Gov. Cuomo has been trying to close Brooklyn hospitals from Day One.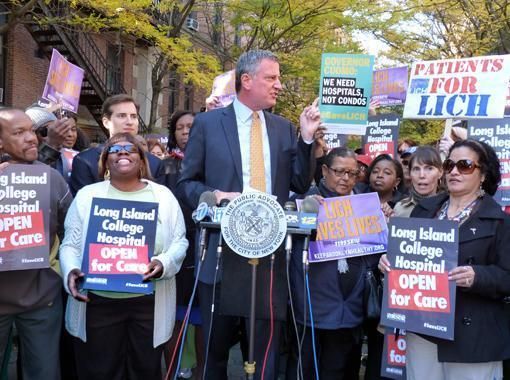 RELATED

---

LICH closure causing growing political backlash in Brooklyn ; Mayor, Governor under pressure (The Brooklyn Daily Eagle)

Healthcare As Bargaining Chips in New York City Politics // The Pelican Brief (NYC : News & Analysis)

Disappointment in Mayor Bill de Blasio is turning into community outrage as residents of Brooklyn come to grips with how the mayor's office waged a duplicitous campaign in regards to Long Island College Hospital, or LICH as it is better known.

Publicly, Mayor de Blasio was giving lip service to saving LICH, but privately, some community activists are now saying that the mayor's staff was trying to bully healthcare activists into supporting the closure of the hospital so that a large real estate developer could convert the complex medical campus into luxury condos.

The reality of the mayor's duplicitious nature, while shocking to grassroots activists, comes as no surprise to astute political observers of how the real corrupt nature of the broken political system works in New York City. Mayor de Blasio stormed into office during last year's mayoral election with the aid of a corrupt Super PAC undercuting his chief rival and with promises to provide a clean break from the Bloomberg-Quinn administration. The mayor's empty and meaningless campaign promises weren't made, because he believed in them, but because his campaign consultants knew that the electorate was desperate for change, and that this messaging would help him win the election -- a prediction that turned out to be correct, but that would not fix the broken political system, because that was never the de Blasio campaign's intention.

The latest revelation of the mayor's duplicitous administration comes from an article about LICH in The Brooklyn Daily Eagle :

Following SUNY's announcement on Friday that it had reached an "agreement in principle" to sell the LICH campus in Cobble Hill to Fortis for development into condos, local officials representing the LICH catchment area issued a statement putting them on the opposite side of the fence with the Mayor, who pushed for the deal.

While campaigning on the theme of "hospitals, not condos," De Blasio has apparently moderated his stance since becoming Mayor, saying that an urgent care center and "stand-alone ER" planned for the site will preserve health care for northwestern Brooklyn. Sources told the Brooklyn Eagle that in February the Mayor's staff put pressure on the community groups fighting for LICH to support Fortis.

The growing political scandal over Mayor de Blasio's betrayal of his campaign promise to save LICH is just the latest example of how the economic realities will fracture Democratic unity : On the city level, nobody knows how the mayor will pay for expansion of pre-kinder, making good on union backpay demands, and fighting income inequality. On the state level, Gov. Andrew Cuomo will use pension IOU vouchers and hospital closings to pay for the $2 billion election year tax cut gimmicks needed to fluff his troubled re-election campaign. Caught in between are healthcare and other social needs reform activists, who are looking to the twin Democratic politicians of New York, asking, "Where's the liberal leadership we can count on ?"

But this fracturing of Democratic unity is only coming about because of how Mayor de Blasio and Gov. Cuomo have deceived voters into believing that the Democratic political elite can deliver an overhaul of the broken political system that never answers the demands made by communitys. The elite Democratic politicians will never deliver social, economic, or legal reforms when they are as beholdened to real estate developers as are Mayor de Blasio and Gov. Cuomo.

One of Gov. Cuomo's first acts in office was to empanel a controversial Medicaid Redesign Team that has instituted a scorched earth campaign of austerity cuts to the poorest New Yorkers, those who rely on Medicaid for their healthcare. Part of the governor's austerity cuts was to push for the closure of full service hospitals, where the poor and the uninsured seek life-saving, but expensive, healthcare services. His controversial push for more hospital closings came on the heels of the controversial closure of St. Vincent's Hospital in Manhattan, which is being now redeveloped into a $1 billion luxury condo and townhouse complex by the billionaire Rudin family. Because of income and wealth disparities, many of the state's poor people are concentrated in New York City, making it an easy target to close hospitals with a charity mission serving the poor and the uninsured. The governor's plan to cut healthcare costs to the poor was expanded under Obamacare, as more and more poor people qualified for Medicaid, a move that forced Gov. Cuomo to close even more charity hospitals. To augment hospital closings, the Obamacare expansion of the New York State Medicaid program makes it difficult for poor people to receive prescriptions for life-saving, but expensive, prescription medications, like cholesterol-fighting medications and other prescription medications for people with long-term diseases or disorders, like irritable bowel syndrome or other functional gastro-intestinal disorders. Against this backdrop of austerity cuts, the closure of LICH on Mayor de Blasio's and Gov. Cuomo's joint watch is opening the eyes of healthcare activists to the unseemly political reality that Demcoratic politicians, even those that self-annoint themselves as "progressives," are just as neoliberal in their need to make austerity cuts to the poor and to the sick as the former center-right administration of Michael Bloomberg and former New York City Council Speaker Christine Quinn.

Furthermore, if Mayor Bill de Blasio was uncommitted to saving LICH from the start, in spite of his campaign demands for a moratorium on hospital closings, then this doesn't bode well for Interfaith Medical Center, also in Brooklyn, which has been targeted for closure, as well, by Medicaid Redesign Team hatchetman Stephen Berger and Gov. Cuomo.

Even as the 1199 healthcare union protests the job losses and healthcare cuts by corporate-minded CEO's, note that 1199 strong-armed the Working Families Party to endorse the re-election campaign of Gov. Cuomo, whose very own Medicaid Redesign Team implimented large-scale healthcare cuts, including the outsourcing to Mr. Berger the effort to keep closing city hospitals that have resulted in still yet further healthcare union job losses, not including the negative impact to public health.

How long will it take healthcare activists and other grassroots advocates fighting for unfinished healthcare reforms, such as the adoption of a single-payer healthcare system in New York state to replace Obamacare, before they wake up to see how the corrupt political operatives of some healthcare unions, drunk on the corrupt political Kool-Aid of "business as usual," keep neoliberal Democratic politicians in office, who have no intentions of ever delivering the healthcare reforms that the community demands ?