The "Central Park Five" still await the settlement of their wrongful conviction and incarceration lawsuit, but the city is moving mighty swiftly in respect of two other significant cases, where both men are white.
The five black men commonly referred to as the "Central Park Five" are still waiting for the legal settlement of their wrongful conviction and incarceration lawsuits stemming from the 1989 Central Park jogger case. They were convicted in trials conducted in 1990. Teenagers at the time, their convictions were overturned in 2002, and the five men have been waiting for over a decade for New York City to compensate them for having had their lives destroyed.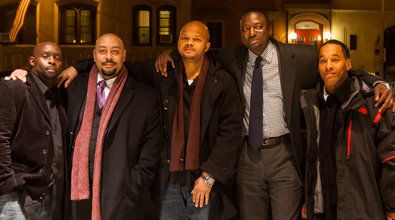 From left, Antron McCray, Raymond Santana, Kevin Richardson, Yusef Salaam, and Kharey Wise, who served prison sentences after having been wrongly convicted in the Central Park jogger case, appeared together in this photograph at the New York premiere of Ken Burns's racial tension-tinged documentary, "The Central Park Five," in November 2012.
Law enforcement in New York City has a long history of discriminating against people of color. In the recent class action Floyd lawsuit that ruled that the New York Police Department's practice known as ''stop-and-frisk'' was unconstitutional, police were faulted for routinely targeting "blacks and Hispanics who would not have been stopped if they were white."
Based on the different treatment that black plaintiffs face in lawsuits against the city over wrongful convictions and incarcerations, it appears that racial profiling may now extend to the city's halls of justice. Complete statistics are not readily available, but for one 12-month span, New York City settled 35 civil rights cases against the NYPD for a total of over $22 million. New York City must be trying to contain the high cost of police brutality and discrimination against people of color by wearing them out in lengthy courthouse proceedings.
David Ranta, a white male who spent 23 years in jail after having been wrongly convicted of a 1990 murder, will receive $6.4 million settlement negotiated by the Comptroller's Office. What makes Mr. Ranta's case unique is that his demand was settled before he ever filed a lawsuit. Last year, Scott Stringer was elected as the city's comptroller. It's unknown why Mr. Stringer would be motivated to preemptively settle Mr. Ranta's case without consulting the city's Law Department -- but not take any action to settle the Central Park Five wrongful incarceration case.
Meanwhile, New York City might be prepared to settle the case of the wrongful arrest of another white male, Robert Pinter. Mr. Pinter, a gay man, was arrested in 2008 as part of what has been described as dragnet sexual orientation profiling entrapment arrests in an NYPD crackdown against gay adult video stores. It's notable that Mr. Pinter's case is nearing settlement as a result of negotiations by the city's Law Department, even though he was never incarcerated for a term of years like the Central Park Five. After his arrest, Mr. Pinter "initially pleaded guilty to a reduced charge of disorderly conduct," Gay City News reported, but Mr. Pinter later "filed a motion to vacate his conviction, which was not opposed by the Manhattan District Attorney's Office," after Mr. Pinter became aware that the NYPD was engaged in sexual orientation profiling against gay men.
Because of the many instances of prejudice that people of color face at the hands of the NYPD, activists are expressing frustration with the lack of reforms at the police department by the new mayor, Bill de Blasio, and by his controversial pick for a new police commissioner, William Bratton. While the Central Park Five await settlement of their case, the NYPD launched a cheap social media marketing gimmick this week to help improve its impression with New Yorkers. After asking citizens to tweet friendly photos of police officers with the #myNYPD hashtag, the police department was overwhelmed by an avalanche of response tweets documenting the long history of police brutality, racial profiling, and other controversial police tactics. One tweet featured the tragic case of Deion Fludd, a black teenager who was beaten senseless by police, eventually leading to death from his injuries. Like other victims or the surviving relatives of victims, the late Mr. Fludd's mother has filed a wrongful death lawsuit against the NYPD. With her young son now dead, let's hope Ms. Fludd sees justice in a time frame to make a difference in her life.
Before 17-year old Deion Fludd died of his injuries, he said he was beaten into a quadriplegic by #myNYPD pic.twitter.com/cBGj68AY0C

— Copwatch (@Copwatch) April 22, 2014
If you want to be part of the conversation about how to bring more attention and focus on efforts to reform law enforcement in New York City, please join us for a special workshop at this year's Left Forum :
The Central Park 5, framed by #mynypd pic.twitter.com/BfPCg3u8qM

— Layla Sola (@ljsola) April 23, 2014