PUBLISHED : TUES, 15 APR 2014, 10:51 PM
UPDATED : MON, 21 APR 2014, 05:48 PM
A couple of New Yorkers, who called into tonight's broadcast of "NY1 The Call," predicted a dangerous summer of crime -- but they are basing their predictions on unfounded fears and other possible biases.
Matt, Astoria on @NY1thecall: "This is the tip of the iceberg with end of #stopandfrisk."

— NY1 - The Call (@NY1thecall) April 16, 2014
The police department uses tragic accidents, like the sad shooting of Gama Droiville, 13 of Brooklyn, to fan the flames of fear to accept more policing.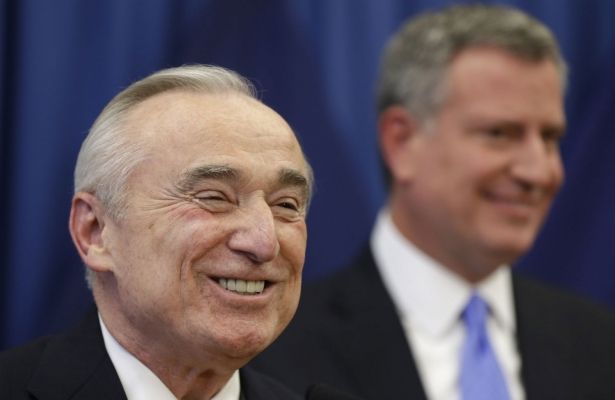 But the New York Police Department, headed by the controversial police commissioner William Bratton, openly advocates increasing policing of the poor and people of color under a policing theory known as "broken windows," which dictates that stopping low-level crimes will catch criminals before they commit more severe crimes. Commissioner Bratton also refuses to abandon use of the unconstitutional police practice known as "stop-and-frisk," which has been shown to illegally target the poor and people of color.
But the tragic shooting of the young Mr. Droiville should be an opportunity for voters to demand that the police department should end its controversial tactics that target the wrong people. Stop-and-frisk does not take guns off the street, as has been proven by stop-and-frisk statistics from the New York Civil Liberties Union. Instead, unconstitutional police tactics destroy lives by illegally stopping innocent people without cause and then finding ways to give them tickets or summonses, all in an attempt to meet police quotas for documenting low-level crimes or infractions. For example, when police stopped Jerome Murdough, a veteran, he was arrested solely because he was homeless. Mr. Murdough was detained in Rikers Island, where he died at the negligent hands of law enforcement.
Since the mayoralty of Rudolph Giuliani, New Yorkers have been over-policed to the point that crime statistics, if they are to be believed, show that the city is now the safest it's been in a very long time. Yet, dramatic shooting accidents, like the one that injured the young Mr. Droiville, are used to stir up public fears that will lead to more over-policing that will keep destroying the lives of innocent people. More often than not, New Yorkers should feel safer among other New Yorkers. Sometimes, it's the police, who should give New Yorkers reason to worry.
Like in the case of Mr. Murdough, law enforcement have, under Commissioner Bratton's young second term in office, already injured other New Yorkers. During another crackdown on low-level crimes, this time against pedestrians, police assaulted and battered a frail, elderly man, Kang Wong, aged 84, for jaywalking. Another elderly man, aged 69, was run over by police driving a squad car on the Upper West Side.
The police crackdown on the poor and on people of color under Commissioner Bratton comes at a time when Mayor Bill de Blasio is trying to brandish his "progressive" laurels. Mayor de Blasio promised to end the "Tale of Two Cities" that unfairly treats people with the least worse than the people with the most. But the mayor's vision is at odds with his own police commissioner.
Further, the NYPD's obsession with the policing of low-level crimes comes against a backdrop where public corruption runs rampant from Albany to City Hall. There is no municipal prosecution of political corruption, financial racketeering, and campaign finance scandals, but the poor must face getting stopped-and-frisked, ticketed for infractions when they are not first battered or run over by the police, and then, if the poor are arrested for being homeless, they face the prospect of losing their lives in dangerous conditions in the municipal jail system for lack of a humane shelter system in New York City.
Callers on tonight's broadcast of "NY1 The Call" heard from people, who had let their emotions and fears get the best (or worst) of them, and these callers advocated for more "proactive" policing. Other callers were more cautious about advocating for more aggressive policing based on the NYPD's history of abusing its authority.
Nastaran, Harlem on @NY1thecall: "Don't want to bring back heavy-handed policing, we know detrimental effect it has on neighborhoods."

— NY1 - The Call (@NY1thecall) April 16, 2014
Fighting to reform this broken system is a group of activists, New Yorkers Against Bratton, who last Friday publicly delivered outside police headquarters a community report and speak-out marking the first 100 days of the second Bratton tenure. Until the police commissioner, and the mayor who made his regressive appointment, end each of the crackdown on low-level crimes in public transportation systems, the attempts at coordinated sweeps of homeless New Yorkers, and the mayor's "Vision Zero" initiative, the poor and people of color will get no justice from the city's law enforcement. Instead of using non-violent methods, like buy-back programs, to take guns off the streets, the police want to continue to erode public trust by using tactics that target innocent people based on their economic status, race, and practice of faith. Meanwhile, the rich and powerful will get away with crimes, for which the justice system never makes the resources, much less the political will, available to fully address.