Breaking news
: CNN reports that
nuclear meltdown may be underway
.
News video from Japan, showing the nuclear power plant explosion at Fukushima, Japan.
New YouTube video of the Fukushima Daiichi nuclear power plant explosion from Japanese news program. Video Credit : ProducerMatthew.
One day after the explosion, an image was broadcast by Sky News of the explosive damage to the ''Fukushima I'' (aka ''Fukushima Daiichi'') nuclear power plant. In the highlight bubble below, one can see the skeletal remains of the building's structure.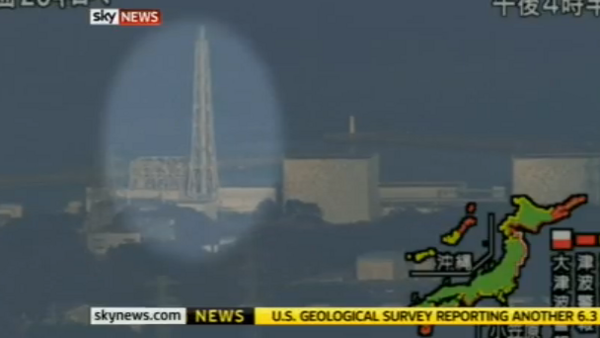 The risk to the public is very severe in Japan. Authorities have ordered an evacuation area spreading 20 kilometers around the nuclear power plant in Fukushima. Supplemental reports indicate that residents in close proximity of the Fukushima nuclear power plant have been ordered to avoid drinking tap water.