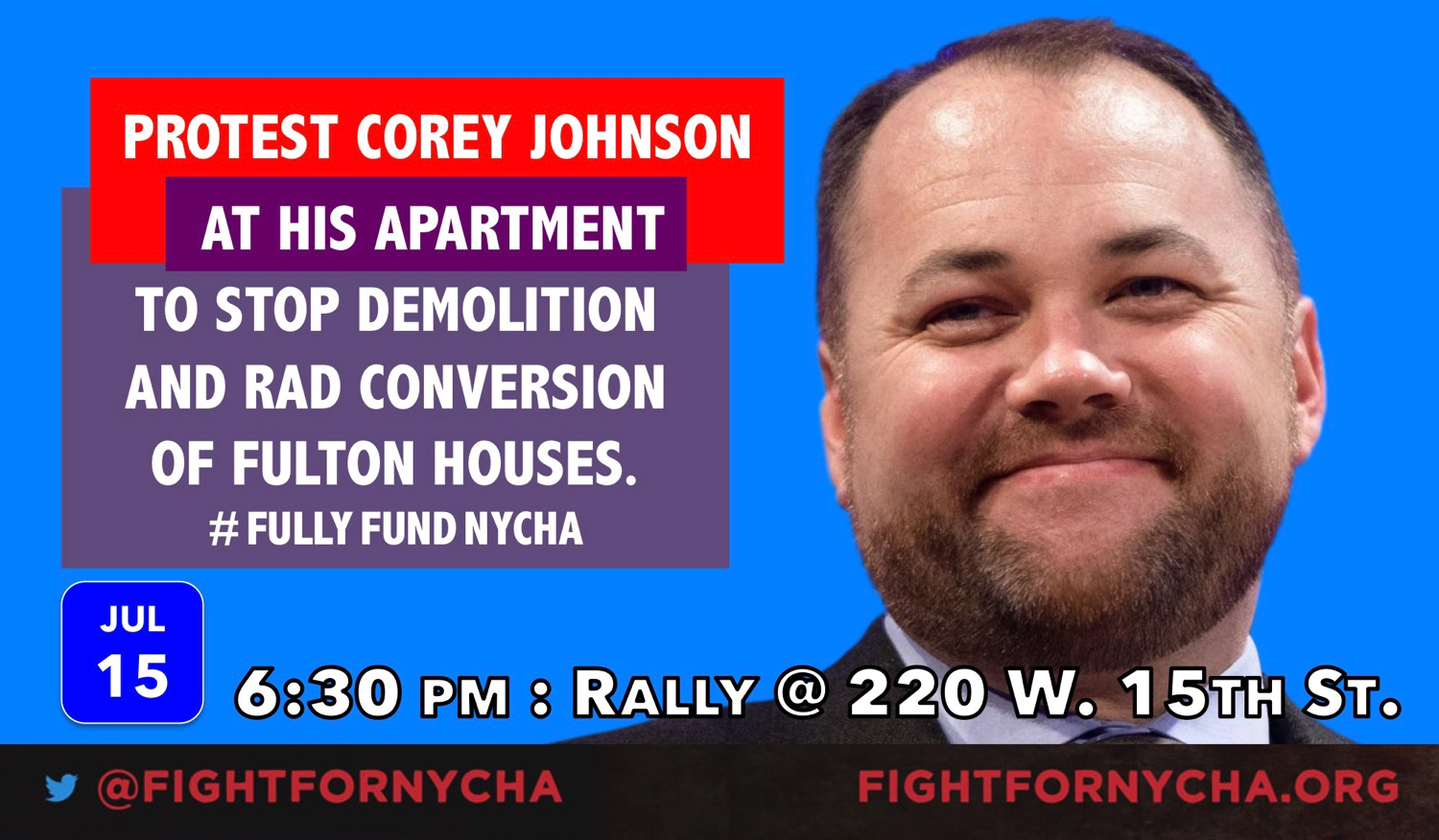 Protest Corey Johnson to save Fulton Houses
No #RAD-ification of Fulton Houses !
Join us for a protest on Monday night at the apartment house of New York City Council Speaker Corey Johnson (D-Chelsea). We demand that Council Speaker Johnson allocate $168 million to save Fulton Houses from demolition and to stop the handing over of Fulton Houses to a private landlord.



DATE : Monday, July 15, 2019




TIME : 6:30 pm




PLACE : 220 West 15th Street, Manhattan




RSVP : Protest Corey Johnson to save Fulton Houses [Facebook]



Update on Councilmember Ben Kallos' Forum on Overdevelopment
Councilmember Ban Kallos (D-Sutton Place) was generous to allow Fight For NYCHA to speak at his Forum on Overdevelopment at CUNY Graduate Center on June 27. Councilmmember Kallos noted how his office and the office of Borough President Gale Brewer (D-Manhattan) had opposed any development of NYCHA that circumvented the Uniform Land Use Review Procedure ("ULURP"). Please watch the Occupy Radio video of the brief remarks made about the importance of putting the plan by Mayor Bill de Blasio (D-New York), calling for the demolition and RAD conversion of public housing, on the public agenda.



VIDEO : Fighting Every Step of the Way to Save NYCHA [Occupy Radio via YouTube]



Update on Twitter Suspension
When the @FightForNYCHA Twitter account was restored, we were notified that our account had been flagged as spam. We don't know how Twitter reached that conclusion, but it may be that our opposition were flagging our posts as spam. Whatever the true cause, we have set up a back-up Twitter account. Please take time to follow @FullyFundNYCHA.
Search for 501(c)(3) Sponsor
Fight For NYCHA is searching for a fiscal sponsor to support our commitment to public service. Our core mission is three-fold : to bring relief to public housing tenants, to preserve and expand public housing, and to treat housing as a human right. If your group can act as our 501(c)(3) sponsor, please contact us at : team (at) mg (dot) fightfornycha (dot) org.
Fight For NYCHA is a collective of tenants, activists, artists, and advocates, who are supporting NYCHA to self-determine the future of public houisng in New York City. We oppose Mayor Bill de Blasio's plan to put 1/3 of NYCHA into the hands of private landlords. We reject Mayor de Blasio's proposal, because the money exists to save NYCHA. We just have to change our priorities.
# # #
Visit : Fight For NYCHA | Twitter | Facebook
This was a sponsored message sent to you by Progress New York.
Have you become uninterested in participating in your own governance ? Unsubscribe.