Mayor de Blasio's high poll approval ratings from minority communities will soon clash with the summer police offensive by controversial NYPD Commissioner William Bratton that targets communities of color.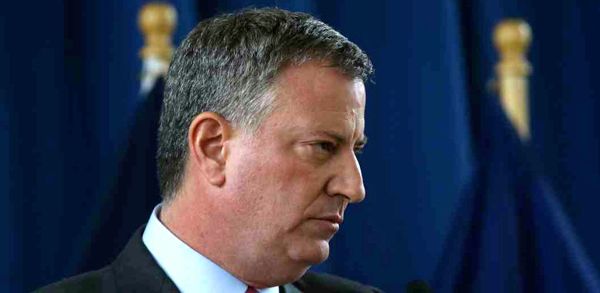 RELATED

---

William Bratton Putting Desk Officers on Streets in Neighborhoods of Color to Aggravate Tensions in Communities During Hot Summer Months (The New York Times)

A Tale of Two Cities : Racial Divide Over Bill de Blasio's Support Widens : Political Poll shows Black voters support for mayor, for now (The New York Observer)

In last month's Quinnipiac University Poll, it was affirmed that Mayor de Blasio had lost support amongst a majority of White voters. How long will the mayor enjoy support from people of color as Commish Bratton releases the Kracken upon minority neighborhoods and the city's public housing developments ?

According to a Quinnipiac University Poll release in June, Mayor Bill de Blasio had lost support amongst White voters, but he still has the support of some minority groups. How long that support will last under the racist ''broken windows policing'' policies of NYPD Commissioner William Bratton will soon be revealed.

Commissioner Bratton is unleashing approximately 400 desk cops onto the city's "troubled police precincts" -- a euphemism for public housing developments and other minority neighborhoods -- in a policing crackdown that appears to be discriminatory based on income and race.

The new NYPD offensive, known in the department as "Summer All Out," will last 90 days, and it follows the controversial, military-like "shock and awe" raids conducted at dawn one day several weeks ago targeting low-income residents, who live in public housing developments in Harlem.

Mayor de Blasio, Commissioner Bratton, and their public relations advisors, such as Dan Levitan, left, from the corrupt lobbying firm Berlin Rosen, are tone deaf to the concerns of minority communities. During the Harlem public housing raids, the police mobilized helicopters, officers in riot gear, and even counterterrorism officials, and the cops even hauled out all of their expensive police toys that they use to make themselves feel so strong and powerful, and, instead of targeting the suspects of interest, the police under Commissioner Bratton drew the entire residents of the public housing complexes of the General Ulysses S. Grant Houses and the Manhattanville Houses in Harlem into the dawn raid.

It's clear that the intent of the NYPD was to instill fear and terror into the residents, to make the major psychological impression that to round up suspects of interest the police will raid entire public housing developments using "militaristic invasions" to make communities of color more submissive to police in a perverse form of sociological behavior modification.

This was what the U.S. military meant by using "shock and awe" under former President George W. Bush in the illegal invasion of Iraq in 2003.

But the implications for Mayor de Blasio may be the same as they were for former President Bush. U.S. popularity plummeted when we are seen as the aggressor. As more and more voters become disenchanted with the duplicitous political machinations of Mayor de Blasio (witness the collapse of Long Island College Hospital on Mayor de Blasio's watch and the swift community sense of betrayal and anger that that engendered), and you have a open window into what the mayor will likely soon face, as the residents of low-income and minority neighborhoods have to put up with aggressive policing that targets the poor and people of color.

The mayor's last vestiges of political polling support amongst minorities will likely collapse before this summer is over. Already, the police are targeting low-income artists and performers, who put on shows in the subway system for tips. The unemployment rate for minority youths is stubbornley high, and the mayor has no alternative plan to give subway artists a legal and meaningful way to earn a living. These, and other violations of minority New Yorkers' civil rights, such as the right to be publicly accommodated on buses without fear of being brutalized or discriminated, are driving minority leaders and activists to question Mayor de Blasio's unbridled support for Commissioner Bratton's racist ''broken windows'' theory of policing. And if Interfaith Medical Center in Brooklyn closes this year, the political perceptions of more and more minority communities will turn decidedly anti-de Blasio.

Yesterday marked the 50th anniversary of the signing of the Civil Rights Act of 1964, a legislative landmark that was meant to address the violent discrimination in the South. Perhaps the Civil Rights Division of the U.S. Department of Justice needs to look into the actions of the North, starting right here, with the NYPD. Commissioner Bratton's "broken widows" theory of policing is a form of de jure discrimination, and it must be dismantled. It can be done through the work of the Justice Department, or voters can vote Mayor de Blasio out of office after one term, after he loses critical voting support amongst minority voters as early as this summer, at the rate that he and his police commissioner are going.