How Can NYC Police Reform Activists Break Free from the Veal Pen ?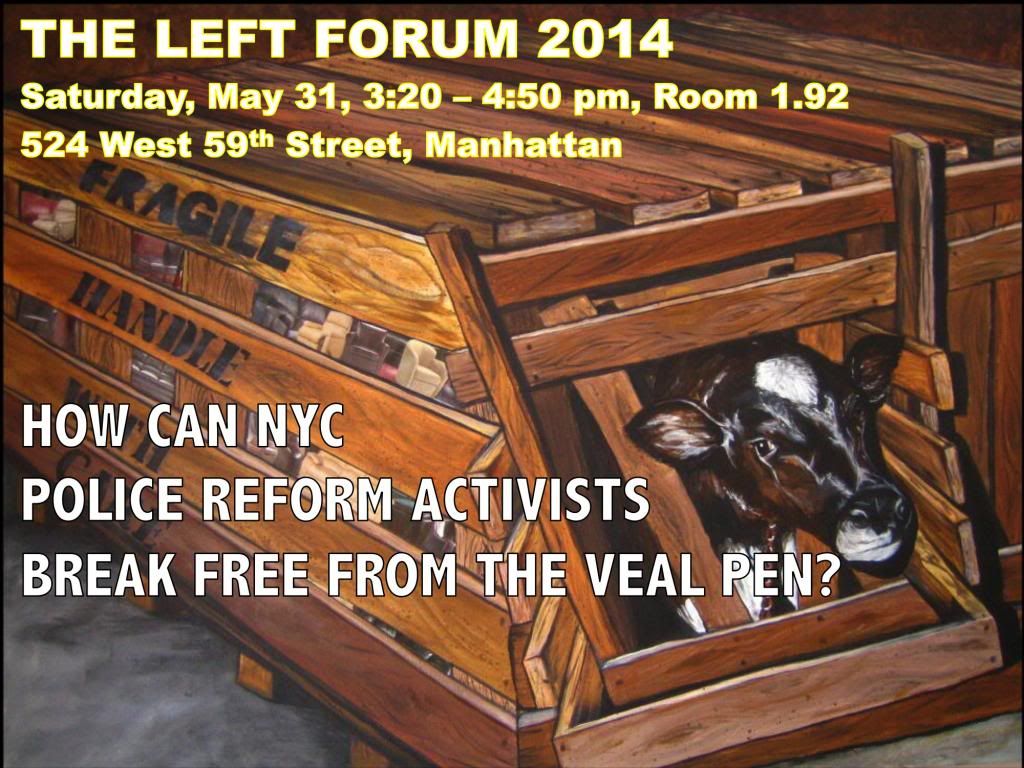 Workshop : How Can NYC Police Reform Activists Break Free from the Veal Pen ?
Date : Saturday, May 31, 2014
Time : 03:20 p.m. - 04:50 p.m.
Place : Session 3, Room 1.92, 540 West 59 Street, New York, NY 10019
Registration is required to attend the Left Forum 2014 : Register here.
Jane Hamsher appropriated the term "veal pen" to describe how the Obama administration subjugates liberal groups and activists in order to demobilize political pressure for reform from the Democratic left. Join us for an intensive workshop designed to challenge groups and activists, who have voluntarily de-escalated political pressure for police reform following the election of New York Mayor Bill de Blasio. To demobilize some police reform groups, lobbyists loyal to the mayor now control the media relations for these reform groups. What has been removed from the messaging from these groups has been the urgency for reform that was present before the mayor won last year's election. In this workshop, designed for experienced activists, we will undertake a specific action and then strategize about how to create new opportunities for organizing in the area of police reform against a backdrop of this new political landscape. In a real "Veal Pen," the bodies of calves atrophy by design. Under the de Blasio administration, which is sensitive to political pressure from the Democratic left as is President Obama, activists' ideas for police reform are meant to atrophy by design. Since this workshop is designed to overcome frustrations faced by activists, who refuse to be demobilized, the rigorous activities are intended to stretch participants' ideas and to draw attention to the Veal Pen.