Federal Investigation Of Campaign Finance Scandal Looks At Coordinated Super PAC Donations
The NYC Is Not for Sale Super PAC TV attack blitz last year against former Council Speaker Christine Quinn brought to the fore years of grassroots discontent and organizing against Speaker Quinn. But FBI agents are investigating whether the hundreds of thousands of Super PAC expenditures were being coordinated behind the scenes by the de Blasio campaign or its surrogates, The New York Daily News reported.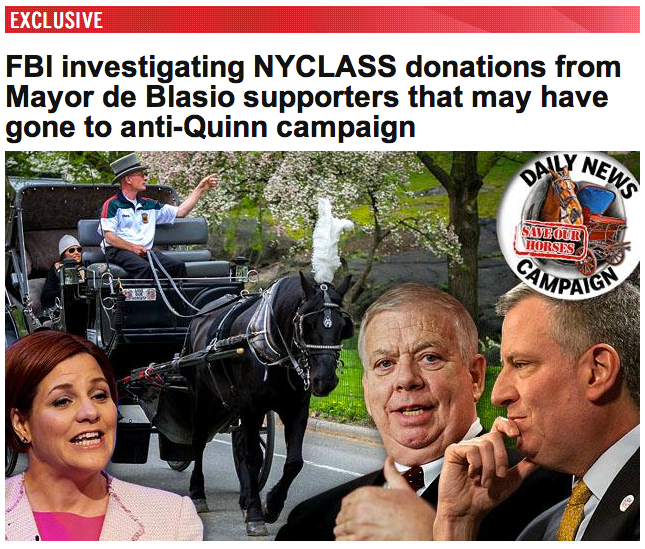 According to federal law, it is illegal for Super PAC's to coordinate their efforts with the official campaigns of political candidates. But on May 21, 2013, the attorney Jay Eisenhofer, who was Mayor de Blasio's largest campaign bundler, gave $50,000 to NY-CLASS, the animal rights group leading the charge to ban horse-drawn carriage. Ten days later, on May 31, NY-CLASS gave an equal amount -- $50,000, to the NYC Is Not For Sale Super PAC. On June 1, NY-CLASS received another large donation, this time for $175,000. It came from UNITE HERE!-- a labor union formerly headed by John Wilhelm, the mayor's cousin. Two days after that, on June 3, NY-CLASS sent the same amount, $175,000, to the NYC Is Not For Sale Super PAC, The New York Daily News reported.
If Mr. Eisenhofer and UNITE HERE! contributed directly to the NYC Is Not For Sale Super PAC, their involvement would have been made public within weeks because of campaign finance disclosure rules, but because they funneled their contributions through NY-CLASS, Mr. Wilhelm and Mr. Eisenhofer were cloaked in anonymity for months. The trigger for NY-CLASS to disclose their donors did not take place until NY-CLASS began its own campaign expenditures, an event that occurred on Sept. 7, three days before the Sept. 10 mayoral primary, The New York Daily News reported. NY-CLASS finally disclosed the contributions on Sept. 17, 10 days after the primary. The coordinated campaign contributions were first reported by Crain's New York Business.
Confronted last year about the NYC Is Not For Sale campaign, then candidate de Blasio initially defended NYC Is Not For Sale's attack ads, saying, "People decided to speak out, and that's their legal right. But the fact is in our system, everything can and will be disclosed, and that's what the people require," although, contrary to then candidate de Blasio, the Super PAC got into trouble for failing to fully disclose its activities, as "the people require." At the time, Mr. de Blasio added that he'd be open to later reforming campaign finance laws (presumably after NYC Is Not For Sale sank former Speaker Quinn's mayoral campaign). "The important thing is to respect the fact that we may not like the way the law is, but it's the law. I certainly will put energy going forward into trying to further reform the campaign finance system, but so long as the law is the law, people will make choices within it. That is their right, but I will certainly never ask anyone to engage in such behavior." But so far, the mayor has betrayed his campaign promise to reform the loose campaign finance laws that allow Super PAC's to game elections. Furthermore, former Speaker Quinn has appeared to be milking the NY-CLASS scandal to portray herself as a victim of shady campaign finances ; meanwhile, she has a long record of political corruption.
If Mayor de Blasio was a true progressive, he would under take real reforms, like banning all private campaign donations in municipal elections, ending the appointment of municipal campaign finance regulators by politicians, and instituting newer, tougher regulations of campaign consultants/lobbyists. But perhaps Mayor de Blasio needs to protect the status quo of the broken campaign system. Judging by his 2013 campaign strategy, his 2017 reëlection campaign may be predicated on such.
Separate from violating campaign finance laws, the roles of NYC Is Not For Sale, NY-CLASS, and the lobbying firm advising them both -- The Advance Group -- had damaging effects on the opportunity for reform in a post-Quinn municipal government. Because of the independent campaign expenditures that nearly totaled $2 million, the influence of NY-CLASS perverted the ability of other issue reformers from being taken seriously by the media. Witness how the media accepted the controversial appointment of William Bratton as police commissioner, even though he still supports unconstitutional tactics, such as stop-and-frisk and the broken windows theory of policing, which unfairly targets low-income communities and people of color -- but does nothing to combat the white collar crimes by political operatives or by Wall Street. Further, NY-CLASS misappropriated the grassroots work by reform activists, including tenants' rights activists like John Fisher, police reform activists, QUILTBAG civil rights activists, and St. Vincent's Hospital activists, who each had separately and collectively spent years organizing to vote the former Council Speaker Quinn out of office. There was even a serialized book, recounting former Council Speaker Quinn's long record of community and political betrayals.
Casting a further pall on Mayor de Blasio's young administration is the outsized influence of lobbyists in City Hall, coordinating 501(c)(4) political campaign spending by loyal political operatives for his universal pre-kinder initiative with City Hall, his failure to reform the city's campaign finance system, and the reluctance by his administration to answer a FOIL request for records pertaining to possible obstruction of justice in the mayor's efforts to bust one of his campaign supports out of jail.