PUBLISHED : WED, 30 APR 2014, 09:51 PM
UPDATED : TUES, 05 MAY 2014, 10:30 AM
"Bharara's broadening probe of pay-to-play Albany corruption is sure to send shockwaves through the state capital in an election year."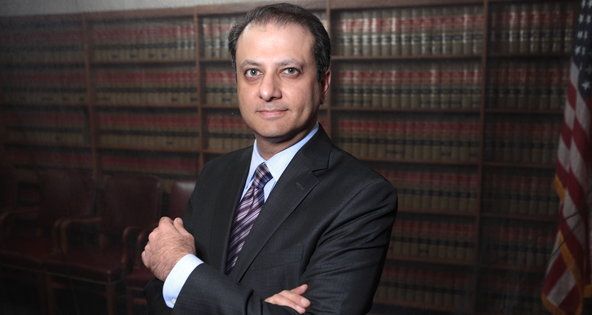 Weeks after Preet Bharara, the U.S. Attorney for the Southern District of New York, took possession of the investigation files of the now defunct Moreland Commission, the corruption-fighting prosecutor has empaneled a grand jury that has now subpoenaed each of the complaints lodged with the state's ethics panel known as the Joint Commission on Public Ethics, or JCOPE, and the records from members of the aborted Moreland Commission.
Mr. Bharara's subpoena of the JCOPE complaints will give him a larger understanding of the corruption landscape across New York state. JCOPE has existed since 2011, and it was tasked with investigating ethics complaints of the state's executive and legislative branches. Against the JCOPE complaints, the federal prosecutor's office will be able to match, supplement, or cross-reference the aborted Moreland Commission investigations. And the fact that Mr. Bharara empaneled a grand jury means that federal prosecutors are seeking criminal indictments in possible connection with the aborted Moreland Commission corruption investigations. Whatever the USAO learns from the JCOPE complaints and commission member records may be the "icing on the cake," so to speak, to garnish other corruption evidence that federal prosecutors may have been able to independently gather from prior wiretaps, other investigations, and possible whistleblower-activists.
The U.S. Attorney's Office has been resoundingly criticized for the apparent free pass to Wall Street following the 2008 global financial crisis and recession. The media, notably PBS's Frontline, showed that the U.S. Department of Justice's Washington office, known as Main Justice, was compromised by officials, such as Lanny Breuer, who refused to prosecute top Wall Street executives. Even Attorney General Eric Holder, who oversees the DOJ and advises the USAO's district offices, created a scandal when he confirmed the Obama administration's aversion to prosecuting corrupt Wall Street executives, known colloquially as "too big to jail," validating a Frontline investigation and widespread public perception. Indeed, Main Justice appears to serve as a revolving door recruitment outpost for large, wealthy law firms representing corrupt Wall Street executives. For his part, Mr. Bharara has bemoaned the Washington budget cuts to the USAO that many government reform activists claim are intentionally made to curtail regulatory oversight and criminal prosecution of corruption, but some activists believe that Mr. Bharara never prosecuted Wall Street corruption stemming from the 2008 financial crisis and recession due to his close ties to Sen. Charles Schumer, who many see as enabling the corruption culture on Wall Street. Mr. Bharara's political career came to prominence when he served as chief counsel to Sen. Schumer, making the senator the prosecutor's "political daddy." Mr. Bharara has also carried out his own oppression against whistleblowers when he prosecuted Jeremy Hammond for exposing corruption by Strategic Forecasting, part of the DOJ's larger persecution of whistleblowers, including government whistleblowers. The DOJ was further seen to have become politicized under President Obama and Attorney General Holder, when the DOJ began to target journalists in an effort to undermine a free press whilst carrying out the government's vindictive prosecution of whistleblowers. Separately, the DOJ was shown to stall a Freedom of Information Act request seeking records about its vindictive prosecution of activists.
Locally, it is supposed to be the Manhattan district attorney, Cyrus Vance, who is supposed to oversee the criminal prosecution of political and corporate corruption. He works for the New York State attorney general, Eric Schneiderman. Both D.A. Vance and Mr. Schneiderman have pretty much abdicated corruption prosecution to Mr. Bharara. More so than the others, D.A. Vance is vulnerable to the political realities of how he can run for office. District attorneys in the five boroughs of New York run for office with the approval of the local county political organization. Since New York is overwhelmingly a Democratic Party enclave, the county Democratic Party chair of each borough must approve of each respective district attorney candidate running for office, meaning D.A. Vance would not dare sacrifice his political career by prosecuting political corruption of officials, operatives, or lobbyists loyal to the county political organization that approves of his candidacy. That is to say, D.A. Vance will not prosecute candidates for public office, who may be engaged in questionable electioneering activities and who run with approval of the Manhattan Democratic Party chair, otherwise he risks alienating himself from his own political supporters. Instead, D.A. Vance touts his prosecution record against activists, paralleling the DOJ's own suppression campaign against activists.
Mr. Bharara's crackdown on political corruption may be his way of being able to attack the special interest money and lobbyists of large corrupt corporations, at least as they intersect with government officials, one activist said. Plus, it allows him to restore his reputation for prosecutorial independence after his and others' failures at the USAO and the DOJ. It also separates Mr. Bharara from D.A. Vance's failure to prosecute corruption of either Wall Street or elected officials.
The increased prosecution of New York political corruption cases by Mr. Bharara is taking place during the run-up to this year's state-wide election cycle, and it follows a spectacular spree of federal political corruption arrests of officials from City Hall to Albany. With the added access to JCOPE complaints and commission member records to augment his trove of Moreland Commission investigation files, Mr. Bharara may now be poised to lead a historical renewal of government integrity, regardless of his motivation. For all of Mr. Bharara's imperfections, activists in New York have not pressed the Obama administration to reform the USAO and the DOJ. Mr. Bharara's like Batman in "The Dark Knight" : not the hero that Gotham needs, but, rather, the hero Gotham deserves.
Will JCOPE subpoenas show complaints against The Committee to Save New York, ie, any donor ties to Cuomo campaign ? http://t.co/HeOKDfvzAh

— Informed Voting (@informedvoting) May 1, 2014