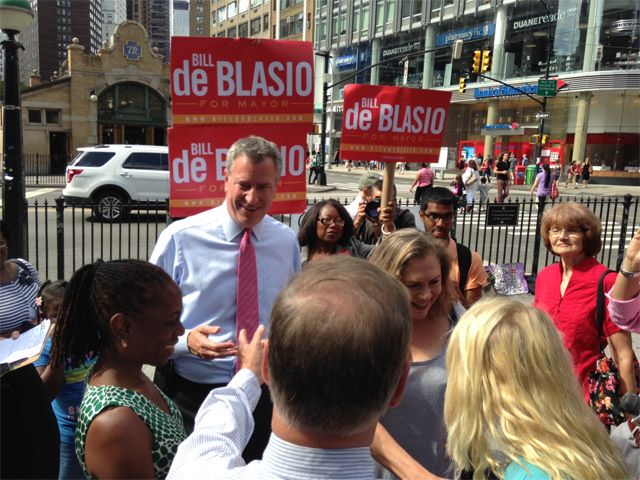 People for the American Way opposes the corruptive influence of Citizens United, but, in the recent mayoral election,
PFAW endorsed Bill de Blasio
, who helped to win the election with the benefit of help of several Super PAC's administered or employed by the campaign consulting and lobbying firm,
The Advance Group
. How real is the PFAW's commitment to overturning Citizens United ? Will PFAW pressure the new mayor of New York to close municipal campaign finance loopholes, so that the effort to overturn Citizens United can be established in New York -- and then copied by other municipalities across the nation ?
From: Overturning Citizens United (alerts@pfaw.org)
Subject: Grassroots unite! (against "the next Citizens United")
Date: 7 février 2014 12:33:21 UTC-05:00
To: LF (g-Male) (lflores22@gmail.com)
Reply-To: Overturning Citizens United (alerts@pfaw.org)

Louis,

Later this month, the Supreme Court could hand down a decision in a case many have called "the next Citizens United."

February 24 is the Court's next decision day and if the conservative majority rules broadly in McCutcheon v. FEC -- and in favor of powerful, moneyed interests, as is their penchant -- they could deal a massive blow to the few commonsense campaign finance restrictions we have left.

All the polls, as well as elections where the issue has been on the ballot, are clear: Americans want big money and its corrupting influence OUT of politics -- not more of it in, like the Court could allow in McCutcheon.

Our coalition of pro-democracy organizations and activists is gearing up to make sure there's a grassroots response, in cities and towns across the country, to the Court's McCutcheon decision the day it is handed down (on Feb. 24 or after).

Please sign up now to attend an event near you, or if there's not already an event scheduled in your area, to help organize one.

Click here to indicate your interest on the Money Out / Voters In campaign site now, and organizers will be in touch with you leading up to the decision day.

Thank you to our friends at Public Citizen for leading this effort.

And thank YOU for continuing the fight to restore Government By the PEOPLE.

Sincerely,

Ben Betz, Online Engagement Director