"What a hypocrite," one activist shouted at Ydanis Rodriguez
Activists critical of Mayor-elect Bill de Blasio's appointment of William Bratton as NYPD commissioner confronted Councilmembers Ydanis Rodriquez and Jumaane Williams on the steps of City Hall on Tuesday, Dec. 10. Some of the activists included family members of people murdered by police when Mr. Bratton was first Police Commissioner, from 1994 to 1996.
When activists asked Councilmember Rodriguez what he thought of the Bratton appointment, Mr. Rodriguez responded by saying, "I support the mayor," shocking the conscience of activists.
"You support the mayor ?" one activist asked, having to repeat Mr. Rodriguez's statement, because Mr. Rodriguez was only recently a very visible critic of abusive NYPD policies, such as stop-and-frisk. The one activist continued, "You support the mayor, when you used to march with us [against] police brutality ?"
Indeed, on Feb. 29, 2012, blogger and activist Javier Soriano reported that Mr. Rodriguez stood alongside Councilmember Williams at a demonstration in support of NYPD reform legislation. (New Yorkers United to End Stop-and-Frisk and Discriminatory Policing * JavierSoriano.com)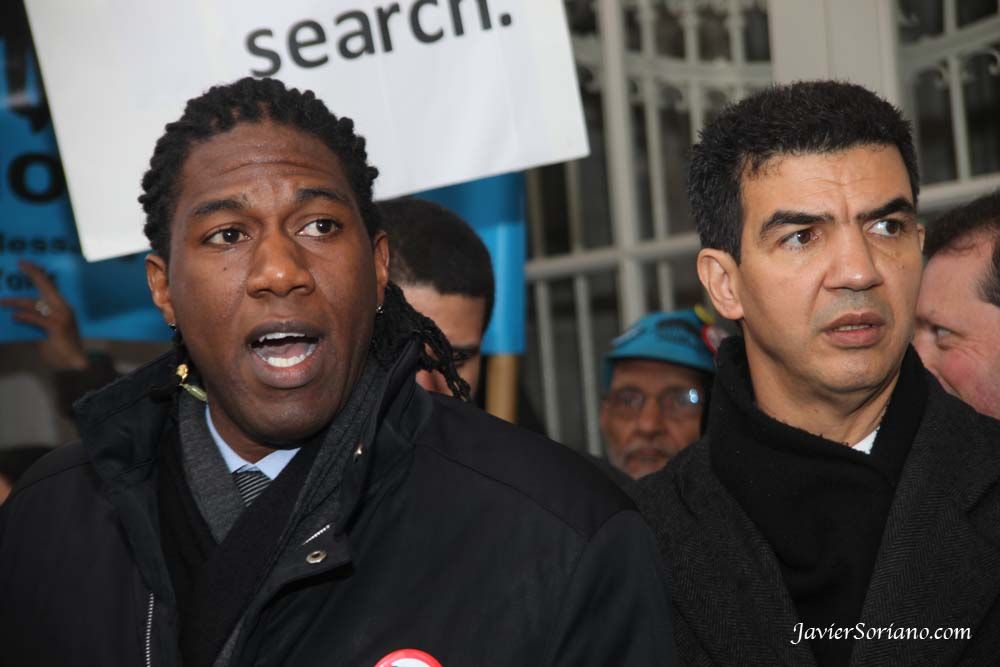 Yet, Mr. Rodriguez was now supporting the Bratton appointment, which reform activists view as a betrayal of community demands to end the state-sponsored forms of racism that are at the crux of stop-and-frisk and police brutality, which have been sources of conflict in Bratton's history.
"What a hypocrite," another activist shouted at Mr. Rodriguez. Through other jeers, still yet another activist is heard telling Mr. Rodriguez, "You support the people, who have no respect for human rights."
Mr. Bratton's selection to succeed Ray Kelly as NYPD commish has been Mr. de Blasio's first administration scandal, triggering a wave of protests weeks before Mr. de Blasio is set to be sworn into office. It appears that the mayor-elect is breaking a major campaign promise to "end the stop-and-frisk era." The betrayal comes from the fact that Mr. Bratton has been described as the "architect of stop-and-frisk," and he has had a controversial record in Los Angeles, where he was once police chief, and other municipalities, where he has served as an outside consultant to other police forces. One would never have guessed from Mr. de Blasio's campaign propaganda against stop-and-frisk that Mr. de Blasio's pick to lead the NYPD would be the "architect of stop-and-frisk." (Bill de Blasio Bill Bratton Stop and Frisk Broken Campaign Promises * YouTube)
Already Mr. de Blasio has reacted with cunning calculation against the stop-and-frisk protesters by thwarting their First Amendment rights to protest by deploying both NYPD and FDNY resources. (Did Bill de Blasio misuse FDNY Fire Drill To Thwart Stop-And-Frisk Protest ?)
Back on the steps of City Hall, when activists noticed Mr. Williams, they swarmed around him. One activist pointed out Mr. Williams' duplicitous support for Mr. de Blasio's pick to lead the NYPD. "Look at what they did to you," one activist said, adding, "Do you think they care about you ?"
This was a reference to the egregious incident when the NYPD detained Mr. Williams for no other reason than the color of his skin. (Police Detain Brooklyn Councilman at West Indian Parade)
Activists are trying to appeal to the conscience of past reform leaders, who used to call for an end of racism and brutality by the troubled police department. But many activists see the past reform leaders being paid off with appointments, City Council slush funds, lucrative Council chairmanships, or promises of increased power, authority, or influence under the incoming de Blasio administration as some reasons why past reform leaders are turning their backs on previous commitments to reform.
The struggle over the next top cop comes at a challenging time for a police force beset by a ticket-fixing scandal, continuing controversy over the city's appeal of a landmark stop-and-frisk court ruling, and allegations of malicious motivations to interfere with freedom of the press. The incoming de Blasio administration would love nothing better than to quiet down any community backlash to his appointment of Bratton.