---
SPECIAL NEWS UPDATE: FRI, 25 APR 2014, 09:50 AM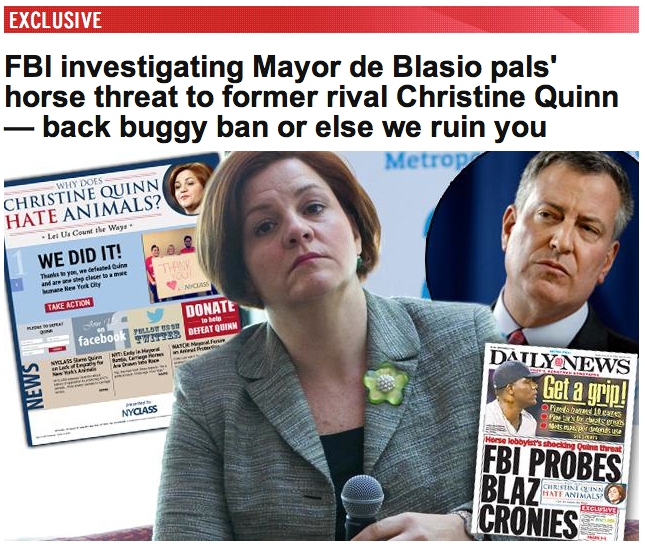 In the past few weeks, FBI agents have been asking questions about the campaign by the animal rights group NY-CLASS to strong arm former Council Speaker Christine Quinn (center) to support a ban on the iconic horse-drawn carriages, two sources familiar with the matter told The New York Daily News. The horse lobbyists in question include Scott Levenson, and they are linked to Mayor Bill de Blasio (inset). (FBI investigating claim that Christine Quinn was threatened by Scott Levenson for refusing to support carriage horse ban during the mayoral race * The New York Daily News)
---
PUBLISHED : TUES, 26 NOV 2013, 12:44 PM
UPDATED : FRI, 25 APR 2014, 11:17 AM
---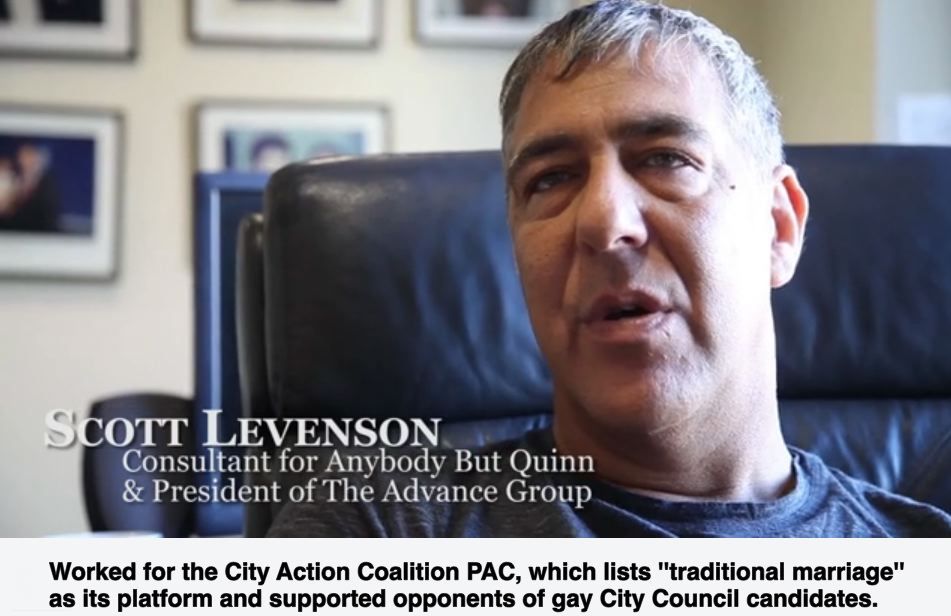 Scott Levenson And The Advance Group Are Being Investigated By The Campaign Finance Board For Possible Violations Resulting From Coordinating Super PAC Money With Public Matching Dollars, But No Mention Is Being Made Of Allegations Of Undue Influence And Other Possible Violations Of Campaign Finance Law, Nor Any Criminal Investigation
"… New York City saw a spasm of unregulated campaign money, most of it unleashed by wealthy Democrats and unions. And no one channeled those rivulets of cash more aggressively than Scott Levenson and the Advance Group, the strategic consulting firm he heads," writes Michael Powell in The New York Times, adding, "The United Federation of Teachers dropped millions of dollars and Mr. Levenson took at least a $370,000 cut. A group putatively devoted to carriage horses but focused intently on defeating the speaker of the City Council, Christine C. Quinn, spent a golden lode, and again Mr. Levenson took a cut," and noting that, "Now the Campaign Finance Board is investigating the Advance Group's role." (In Campaign, Cash Flowed Circuitously)
"The board takes very seriously any allegation that campaigns have benefited from spending by an outside group where spending is coordinated," the CFB spokesman Eric Friedman told the NYTimes, adding, "It gives a big advantage."
Scott Levenson Keeps Changing His Story
Scott Levenson changes his story on anti-gay attack PAC : First : http://t.co/X9iFPTz8Yq Then : http://t.co/TK6cIWD3gl #Preet

— Informed Voting (@informedvoting) November 26, 2013
To The New York Daily News, Mr. Levenson told one story about why he agreed to be paid to run several anti-gay attack ads :
The firm admitted its work for City Action Coalition PAC was problematic. "We did a favor for a political operative that we have a longstanding relationship with by sending his mailer to a printer," an Advance Group spokeswoman said. "It was a mistake that we regret and is completely inconsistent with our history." (EXCLUSIVE: Melissa Mark-Viverito's consulting firm choice may be hurting her Council Speaker bid)
But to the NYTimes, Mr. Levenson told a different story :
"It was in the heat of the moment," he said. "I didn't do my due diligence." (In Campaign, Cash Flowed Circuitously)
The Panic Of Backroom Deals To Select The Next City Council Speaker
New York City Council Speaker Race : Clash of the Titans (NY Pop Culture & Politics)
Big player in her corner : The Advance Group is pushing Melissa Mark-Viverito's speaker candidacy. (Politicker)
Who is paying Advance Group for helping Melissa Mark-Viverito ?
(Bill de Blasio Sold Out)
Union power play in council speaker race
(The New York Post)
In race for City Council speaker, Labor's influence is on the rise. (Crains)
Examining the role of consultants in the speaker race, and more (Crains)
Political consultants, who work to elect lawmakers, are turning around and lobbying them on behalf of private clients.
(The New York Daily News)
Will There Be A Criminal Investigation Of Scott Levenson ?
A super PAC formed by the powerful city teachers' union paid more than $370,000 to an apparently fictitious political consulting firm, which was actually the well-known New York firm the Advance Group, records and interviews show. (Teachers union paid $370K to fake consultant * Crains Insider)
An open records request that came back on Tuesday from the City Campaign Finance Board (and is embedded below) offers fresh and somewhat amusing evidence of the connection between the two: Many of the invoices the agency received from Strategic Consultants have the Advance Group logo on them. (Crains Insider)
Will good government groups ask that the Manhattan D.A. Cy Vance appoint a special prosecutor to investigate Scott Levenson and The Advance Group ?
Even Though Levenson And Advance Identify As "Progressive," They Represented An Anti-Gay Attack Super PAC
Will LGBT Groups Protest Scott Levenson Over Anti-Gay Attack Ads ? (NY Pop Culture & Politics)
Sign our Change.org Petition : Bill de Blasio : Do not attend NYCLASS fundraiser to benefit Scott Levenson
And Still No Word From The Media About How The Farcical Speaker Candidate Forums Are Hogwash, Because The Next Council Speaker Will Be Picked By Backroom Deals
Backroom Deals Update : Despite Denials, De Blasio Team Met With Weprin and Mark-Viverito About Speakership http://t.co/EG6unJLyuE

— Informed Voting (@informedvoting) November 26, 2013
The flood of money into politics from Citizens United is creating a "clash of the titans" between the County Political Bosses and Big Business, on one side, and Lobbyists and Special Interest Money, on the other. With campaign finance law failing to keep up with the changes in money in politics, the voters are being kept in the dark about the true way that the speaker is selected. NYC Council Speaker Race Campaign Finance Controversies (2013) (YouTube)