.@getequal ENDA protester getting arrested outside of Boehner's office twitter.com/aterkel/status…

— Amanda Terkel (@aterkel) June 13, 2013
Eight activists from GetEQUAL staged a demonstration and were arrested outside of House Speaker John Boehner's office today in an effort to put pressure on the House Speaker to call for a vote and pass the Employment Non-Discrimination Act, which is known as ENDA.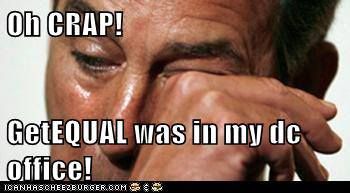 Some of the activists spoke with staff members inside of Speaker Boehner's office.
Then, in an emotional moment, the activists protested inside Speaker Boehner's office, and some of the activists made statements, some of the famous quotes, about what drove the activists to show up at Speaker Boehner's office : the need to call for a vote and pass ENDA.
In this video, one of the activists was shown as he was put in handcuffs and dragged away.
According to a Facebook posting by GetEQUAL member Michael Diviesti, the activists endured a 30 hour van drive from the south to Washington, DC, in order to demand job protections. He identified the activists, who were arrested, as : Koby GetEqual Ozias: Corpus Christi TX, Cindy Candia: Harlingen TX, Kaya Candia-Almanza: Harlingen TX, Carey Neal Dunn: Austin TX, Erin Susan Jennings: San Antonio TX, Tiffani FullEquality Bishop: Austin TX, Sean Watkins: OH, and Corey Phillips: OH.
Another GetEQUAL member noted on Facebook that today's action at Speaker Boehner's office took place on the same day when hundreds of people were scheduled to attend the LGBT Pride Reception at the White House.
Read more : 8 LGBT Protesters Arrested Outside John Boehner's Office
This is the second recent action by GetEQUAL, as part of their larger strategy, of using direct action to fight for full LGBT equality in all matters governed by civil law.
Last week, Ellen Sturtz, another member of GetEqual, was escorted out of a fundraising event after Ms. Sturtz heckled FLOTUS Michelle Obama over President Obama's inaction on signing an Executive Order making an equivalent of ENDA take effect using the president's executive powers. The Executive Order, which President Obama has promised to sign, but thus far has not, would prohibit discrimination based on sexual orientation or gender identity of employees by federal contractors.
Read more : Lesbian activist kicked out of fundraiser for disrupting First Lady's speech