Lt. Daniel Choi was found guilty in trial almost three years after DADT protest :
Update : Lt. Daniel Choi was found guilty and fined $100, which news reports indicate that Lt. Choi promises not to pay -- perhaps setting up another showdown with the Department of Justice, which seems intent on prosecutorial overreach as it is..
Demonstration In Front Of The White House Before Commencement Of Today's DADT Protest Trail Against Lt. Dan Choi :
Below are two pictures of the demonstration, which took place just minutes ago, with the White House in the background. In the first picture, dozens of activists demonstrated in support of Lt. Dan Choi, and, in the second, Lt. Dan Choi salutes the President of the United States, who resides in the White House.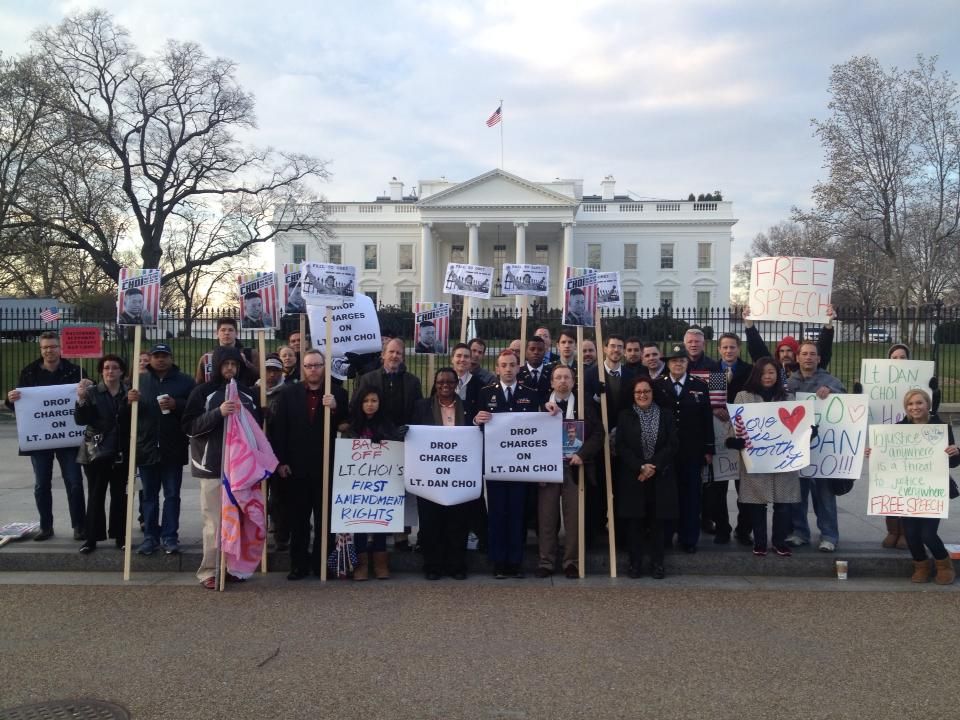 About three dozen supporters stood in solidarity on Thursday, March 28, 2013, with Lt. Dan Choi, a U.S. Army veteran, who faces an unjust prosecution by the U.S. Department of Justice for a protest in which he participated against the military's former policy of ''Don't Ask, Don't Tell.'' Legal observers describe the government's case against Lt. Choi as an instance of prosecutorial over-reach by the Department of Justice.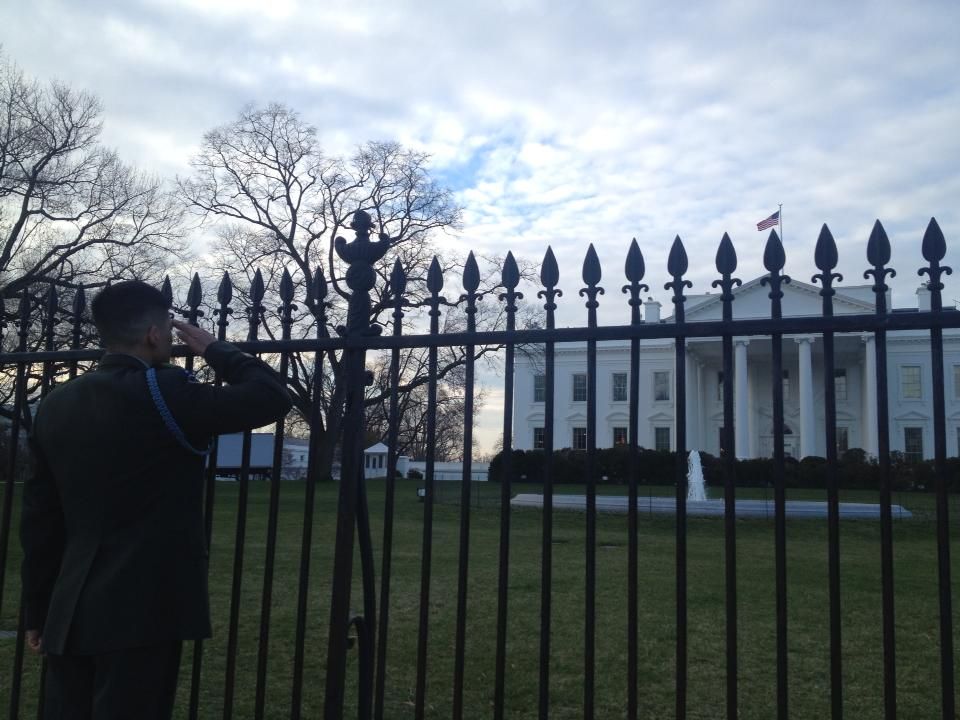 Three years after Lt. Choi's DADT protest, which triggered his arrest and the resulting prosecution, the U.S. Attorney's Office refuses to dismiss the charges against him. The Assistant U.S. Attorney Angela S. George has been accused with waging an over-zealous prosecution against Lt. Choi, who is a notable LGBT civil rights activist. Under the Obama administration, other notable activists have been being prosecuted under worrisome attacks on demonstrations, curbs on Freedom of Speech, and growing restrictions on Freedom of Expression.
Related : Lt. Dan Choi Still on Trial Over 2010 Military Gay Ban Protest
The above photos were posted to Facebook this morning by Robin GetEqual McGehee.
DADT Trail Update From Lt. Dan Choi :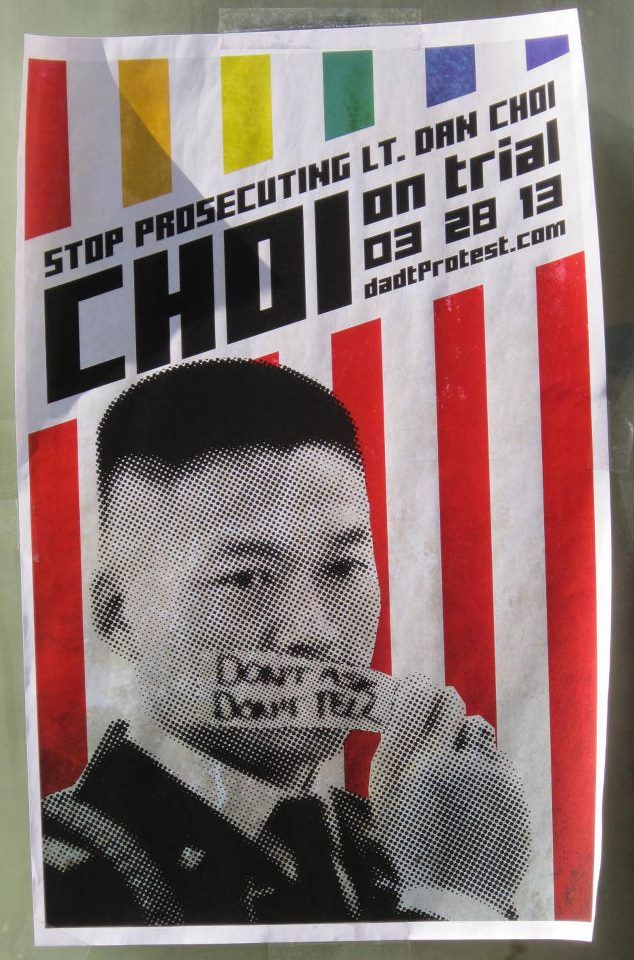 From Lt. Dan Choi :
On Thursday morning, March 28th in Federal Criminal Court, I stand trial for protesting back in 2010 against "Don't Ask Don't Tell."

The federal prosecutor has fiercely pushed this case for three years now, demanding the maximum punishment: 6 months in federal prison. To date, the government lost 5 of 6 protest cases against me, but they refuse to drop this one. Even after the repeal of "Don't Ask Don't Tell," this seldom-used criminal charge against me remains: "Failure to Obey." My applications to re-enlist in the army were denied solely because of this trial. Whether it is to "teach me a lesson," or prevent my reinstatement, or bully those who practice free speech, the prosecution will not give up.

Nor will we. I ask you to please stand with me on this final lap, Thursday morning, March 28th.

The government is smart, powerful, intimidating and well resourced. But I stand on the principles learned in Basic Training: Defend freedom. Tell the truth. Never give up. Please join me, my fellow freedom fighters, international LGBT civil rights activists and people from all across the country who are flying in to send a clear message to the government: We will never stop defending our freedom to speak, serve and love.

Please let me know if you'll be there! I'll keep you updated about special gatherings and organizing.

Facebook Event: RSVP for ''USA v Lt. Dan Choi, DADT'' on Facebook

Even if you can't, please spread the word and forward this message, or consider writing a letter to the judge !

USA v. Lt. Daniel Choi
E. Barrett Prettyman Courthouse
United States District Court
333 Constitution Avenue NW
Washington, D.C. 20001

8:00 AM on Courthouse Lawn -
Yoga Meditation and Interfaith Prayer

9:00 AM in Courtroom 6, (Second Floor) -
Trial

Love is still worth fighting for.

Sincerely,
Lt. Dan Choi