Last night members of Strike Debt and the Healthcare for the 99 Per Cent. Working Group of Occupy Wall Street were advocating for healthcare as a human right. Their demonstration was coördinated with the announcement of a spectacular medical debt relief initiative by the Occupy Wall Street offshoot known as Strike Debt.
OWS offshoot buys and wipes out more than $1 million in medical debt
Over 1,000 randomly-selected patients in Kentucky and Indiana will receive letters in the mail stating that their emergency room debt has been forgiven by the OWS offshoot known as Strike Debt.
The purpose of the "debt buy" is to call attention to "predatory" lending aspects our debt-ridden healthcare system, according to their Web site. Strike Debt refers to its debt relief program as the "Rolling Jubilee," a reference to a Biblical era event in which all debts are cancelled and all those in bondage are set free.
If a hospital is unable to get patients to pay their medical debts, the hospital usually sells this debt to a collection agency. And since the chances of a collection agency actually receiving payment in full are pretty low at that point, the collection agency is able to snatch up the bad medical debt for a much lower price than the original amount on a patient's bill. The collection agency then begins hounding the debtor for money non-stop in often abusive and predatory methods.
Strike Debt funded their Rolling Jubilee campaign through donations, reported The New Daily News.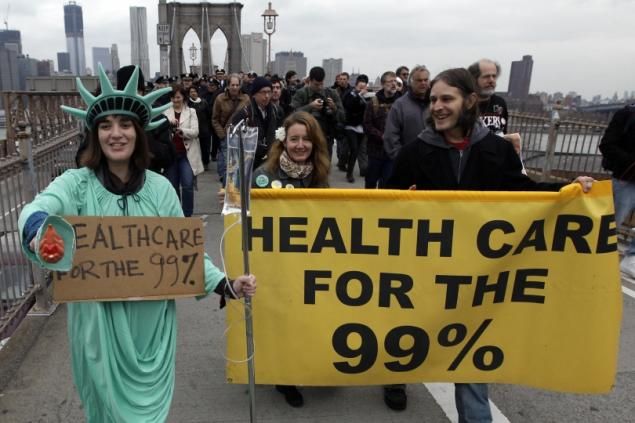 On April 1, 2012, members of the Healthcare for the 99 Per Cent. Working Group of Occupy Wall Street participated in a six month anniversary of the first OWS Brooklyn Bridge march. The theme of the April 1 march was likewise planned around healthcare issues and efforts to stop hospital closings.
A year ago, healthcare and Occupy activists were concerned about the direction of healthcare under Gov. Andrew Cuomo, according to The Brooklyn Daily Eagle report.
Spirits were high and the music was spirited, but the theme of the anniversary march was sobering -- the dire state of health care for Brooklyn residents, especially those served by five hospitals in crisis: Brooklyn Hospital Center, Interfaith Medical Center, Wyckoff Heights Medical Center, Brookdale University Hospital and Medical Center, and Kingsbrook Jewish Medical Center.

Wall Street financier Stephen Berger, appointed by Gov. Cuomo to be in charge of restructuring health care in Brooklyn, is recommending that New York change its laws "to allow for-profit investors to invest in financially-distressed public hospitals."
In spite of the protests and opposition during the year that has passed, Gov. Cuomo and Mr. Berger remain as obsessed as ever with their shady plans for the introduction of for-profit healthcare in New York City.
We collectively pay billions in healthcare premiums to insurance companies, but their profit motive denies our community hospitals of resources, forcing hospitals to treat patients as debtors.
Strike Debt has planned a week of actions in connection with debt relief. One affinity action will focus on how our market-driven, debt-ridden healthcare system drives hospitals to closure.