Sen. Kirsten Gillibrand must make good on her support of LGBT civil rights by filing the American Equality Bill.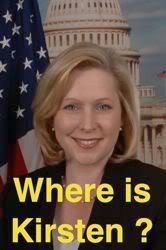 A new blog called Where is Kirsten ? is asking people to record yourselves using a camera phone or digital camera when you try calling the Honourable Senator's office, just like Lady Gaga did in her famous Don't Ask, Don't Tell YouTube video. Only this time, ask Sen. Gillibrand when is she going to file the American Equality Bill, legislation that would add ''sexual orientation'' and ''gender identity'' to the Civil Rights Act of 1964.
Then, send your video or YouTube link to : americanequalitybill@gmail.com. Help us find find where Sen. Gillibrand stands on the American Equality Bill.
Call Sen. Gillibrand. Ask her to introduce the American Equality Bill. Call : 1-212-688-6262..