"I don't have any comment on any of that."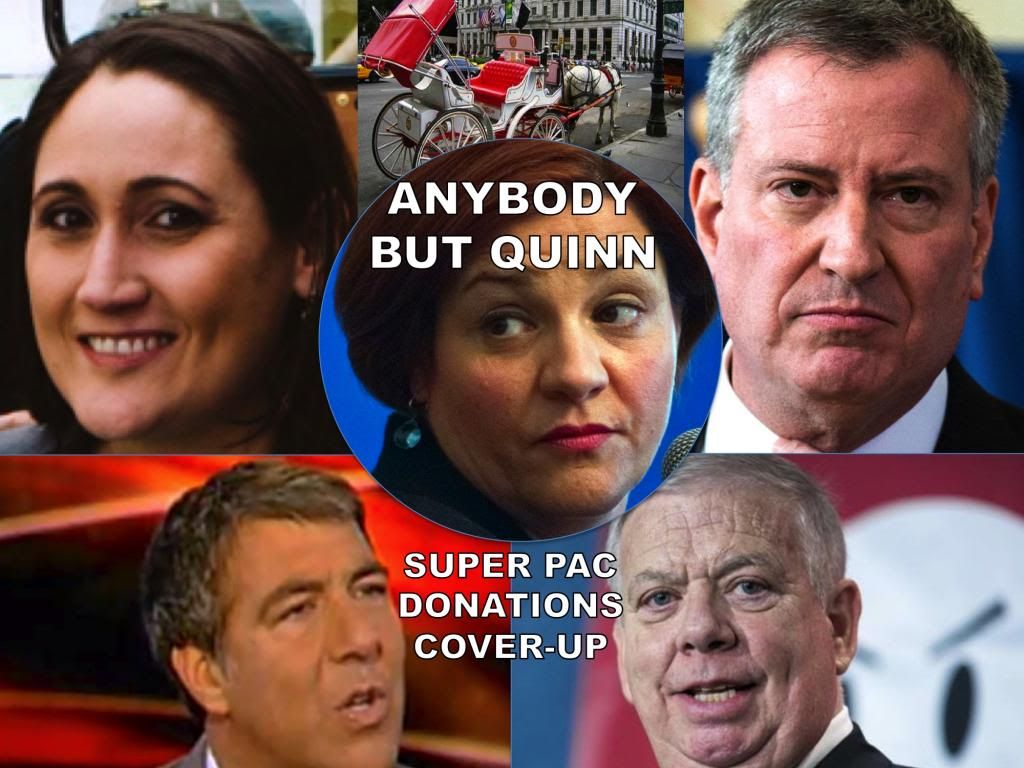 Mayor Bill de Blasio's cousin, John Wilhelm, was the former leader of the union, UNITE HERE! The union made a large contribution of $175,000 to the animal rights group New Yorkers for Clean, Livable, and Safe Streets (NY-CLASS) on June 1, and, two days later, NY-CLASS regifted the same large contribution to a Super PAC that was funding a flood of TV attack ads against former City Council Speaker Christine Quinn, who was the leading Democratic mayoral primary candidate at the time. When Mr. Wilhelm was asked by The New York Daily News to identify who directed UNITE HERE! to make the donation to NY-CLASS, Mr. Wilhelm replied that he had "no comment."
The size and timing of the union's campaign contribution are enough to raise questions about coordination between the mayor's cousin and the anti-Quinn attack Super PAC, but the way that UNITE HERE! structured the donation to pass-through NY-CLASS first in order to get to the anti-Quinn attack Super PAC raises further legal problems, because the pass-through contribution was cloaked in "anonymity for months," The New York Daily News reported. NY-CLASS wasn't required to disclose UNITE HERE!'s contribution until NY-CLASS "began its own campaign spending, an event that occurred on Sept. 7, three days before the Sept. 10 mayoral primary." The $175,000 was practically hidden from voters and activists autonomously working to defeat former Speaker Quinn's mayoral campaign, because NY-CLASS "disclosed the contributions on Sept. 17, 10 days after the primary," The New York Daily News's report added. NY-CLASS's questionable finances have been the subject of a series of reports by Crain's New York Business reporter Chris Bragg.
The union UNITE HERE! last triggered controversy when its former political director, Maura Keaney, was raising campaign donations from unions on behalf of former Speaker Quinn, even as Ms. Keany was working on municipal legislation involving unions. Ms. Keaney's actions were a "potential violation of the city's conflicts of interest law," The New York Times reported at the time. At the conclusion of the city's investigation, Ms. Keaney was slapped on the wrist with a $2,500 fine to dispose of the corruption investigation into her political machinations. To dissipate political blow-back to Speaker Quinn, Ms. Keaney served on former Mayor Michael Bloomberg's 2009 reelection race. After Mayor Bloomberg won that election by a slim margin, he paid Ms. Keaney a lottery-sized bonus of $150,000, which more than made up for her ethics fine.
According to federal law, it is illegal for Super PAC's to coordinate their activities with official campaigns of politicians. Does handing off the same, sizable campaign contribution, apparently timed just right, through an intermediary meet the scrutiny test to prove coordination ?
Both NY-CLASS and the anti-Quinn Super PAC shared the same political lobbying firm, The Advance Group, which is headed by Scott Levenson, a political operative who further shares connections with Mayor de Blasio, given their long history of supporting the Working Families Party, one of the mayor's key political supporters. In the last election, Mr. Levenson further attracted scrutiny for possibly coordinating the 501(c)(4) political expenditures of NY-CLASS and other Super PAC monies with official political campaigns that he also managed in his capacity as a campaign consultant. The anti-Quinn Super PAC was known as NYC Is Not For Sale, but it organized under an astroturf campaign known as "Anybody But Quinn."