---
SPECIAL NEWS UPDATE: FRI, 25 APR 2014, 09:50 AM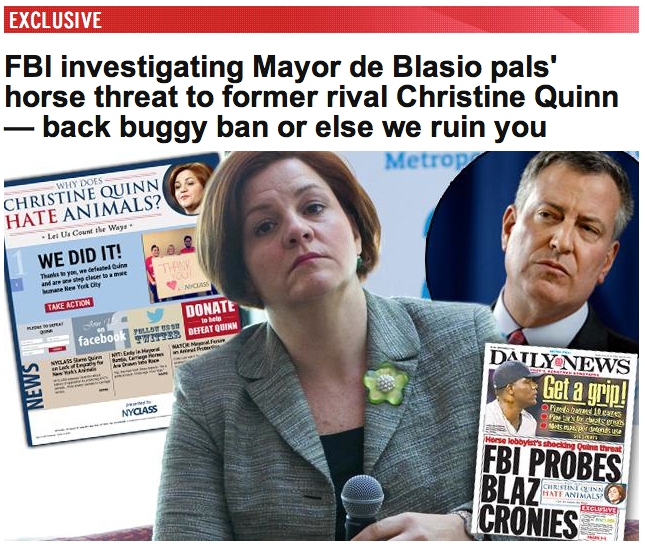 In the past few weeks, FBI agents have been asking questions about the campaign by the animal rights group NY-CLASS to strong arm former Council Speaker Christine Quinn (center) to support a ban on the iconic horse-drawn carriages, two sources familiar with the matter told The New York Daily News. The horse lobbyists in question include Scott Levenson, and they are linked to Mayor Bill de Blasio (inset). (FBI investigating claim that Christine Quinn was threatened by Scott Levenson for refusing to support carriage horse ban during the mayoral race * The New York Daily News)
---
PUBLISHED : SAT, 19 APR 2014, 11:37 AM
UPDATED : FRI, 25 APR 2014, 12:02 PM
Has Long Island Prosecutor Kathleen Rice's Reputation Taken a Hit Because of the Controversial Politicisation of the Failed Moreland Commission ?
One of the former co-chairs of the Moreland Commission, Nassau County District Attorney Kathleen Rice, ditched her responsibilities on the Moreland Commission once she had gained enough fame to run for Congress. Now, one of Ms. Rice's challengers for the Congressional seat has laid political blame for the failed Moreland Commission on Ms. Rice. Legislative Minority Leader Kevan Abrahams told Newsday, "I believe the Moreland Commission failed because of Kathleen Rice's lack of leadership." It's unknown, yet, how voters will judge each of her term on the Moreland Commission and how quickly she appeared to abandon her public corruption investigation duties as soon as Rep. Carolyn McCarthy announced her retirement.
Gov. Cuomo's disbanding of the Moreland Commission has triggered a huge political and prosecutorial backlash from good government groups to the top federal prosecutor in the United States District Court for the Southern District of New York.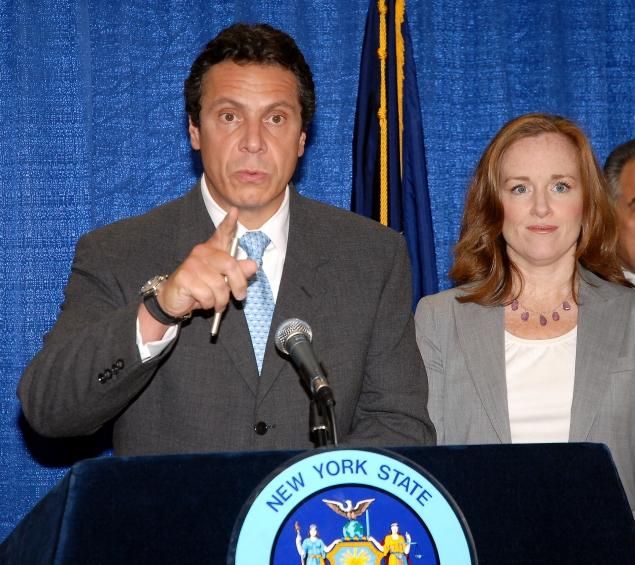 Critics question how deeply corruption panel co-chair Kathleen Rice would probe Sheldon Silver after campaign contributions.
Before its disbanding, state officials and government reform activists questioned how aggressively Gov. Cuomo's corruption panel would investigate Assembly Speaker Sheldon Silver, after the law firm that employed Mr. Silver gave nearly $300,000 in campaign donations to Ms. Rice. (The New York Daily News)* Governor's Crusade Against Corruption Comes With Too Many Asterisks (NYTimes) * To Gut Independence of Moreland Commission, Gov. Cuomo appointed Kathleen Rice as co-chair. Ms. Rice had been Cuomo's favourite for Attorney General before Eric Schneiderman won the AG race. (Capital New York) * Gov. Cuomo's naming of Ms. Rice to co-chair of Moreland Commission was a way to cut out Mr. Schneiderman from Moreland investigation of political and campaign corruption.
U.S. Attorney Preet Bharara has said that a "show me the money" culture pervades all of New York government, and many bloggers and government reform activists agree. Last year, the political blogger and YouTube producer Suzannah B. Troy confronted New York Assembly Speaker Sheldon Silver, and she asked him, "Are you part of the corruption ?"