Why does the New York City Council fund police tactics that violate the Civil Rights Act ?
NYPD Commissioner William Bratton "has signaled few dramatic changes in policy from his predecessor," Capital New York reported last week, but he has focused "his efforts on boosting the department's image in the eyes of the City Council... ."
In his first testimony before the New York City Council, Commissioner Bratton expressed a desire to boost the number of police officers, saying that he though the size of the police force was "too small," which represents a contradiction to statements he made upon his formal appointment, when Commissioner Bratton had said that he was satisfied with the number of NYPD officers.
Some police reform activists note that Commissioner Bratton has notified the City Council that "continuity" of former Commissioner Ray Kelly's controversial policies is the primary goal of his administration. As if to gut the hopes of police reform activists, who had pinned their dreams of ending controversial police tactics, Commissioner Bratton observed in gratitude that the City Council, which is led by Speaker Melissa Mark-Viverito, was the most friendly municipal legislature with which he's ever worked.
Police reform activists have expressed concern that the City Council will abdicate its duty to hold the police commissioner accountable for enacting reforms.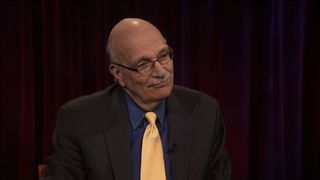 At a town hall meeting last week of the Police Reform Organizing Project, it appeared that PROP Director Robert Gangi, pictured, kept saying that it was incumbent upon community groups to hold Commissioner Bratton accountable for enacting reforms that would end the police force's violations of civil liberties and civil rights, but Mr. Gangi seemed to avoid embracing any call to actually hold the commissioner's, the mayor's, or City Councilmembers' feet to the fire, even as some panel members at last week's town hall urged police reform activists to focus on continued civil rights violations apparent in NYPD tactics. After hearing Mr. Gangi congratulate Mayor Bill de Blasio in absentia for having a "progressive" record, one audience member pointed out during the question-and-answer period that Mayor de Blasio arguably made the most "regressive" police commissioner appointment by selecting Mr. Bratton.
Each year, the mayor and the City Council approve the NYPD's budget, usually with little to no oversight, thereby funding the police force's most controversial tactics and programs, even the ones that are eventually ruled by federal courts to violate the civil liberties and civil rights of innocent New Yorkers.
In the time leading up to last year's mayoral campaign, police reform activists staged numerous protests against the police force's unconstitutional program known as stop-and-frisk. At one protest in Jackson Heights, Queens, activists highlighted former City Council Speaker Christine Quinn's practise of fully funding controversial police tactics that appeared to violate the Civil Rights Act of 1964 with complete impunity.