New York City Schools Chancellor Carmen Farina faced resounding criticism today as she decided to keep New York City public schools open on a day of a massive snow storm that destroyed a ferry ramp in Brooklyn and a snow plow ran over and killed a pregnant woman in Brooklyn. Chancellor Farina said of the weather conditions : "It's absolutely a beautiful day out there."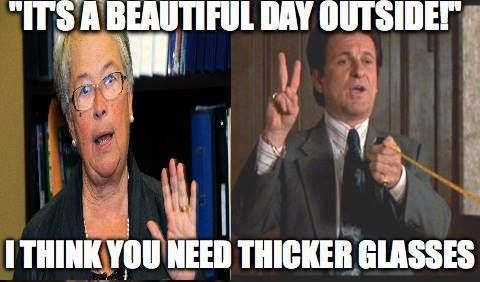 School attended was about 45%, according to The New York Daily News. Earlier in the day, Mayor Bill de Blasio added the controversies surrounding the city's response to the snow storm when the mayor insulted NBC Today Show weathercaster Al Roker. Before the snow storm struck New York, it had killed more than a dozen people. After Mr. Roker said that people should take this snow storm seriously, Mayor de Blasio said, "It's a different thing to run a city than to give weather on TV."
On Twitter, Chancellor Farina's "beautiful day" remarks were transformed into hilarious memes with lightning speed.
#BeautifulDay #carmenfarina @NY1thecall pic.twitter.com/lODCp20ptf

— Five Boro Fund (@5BoroFund) February 14, 2014
Carmen Farina said it was a "beautiful day" today #howtomakeCathieBlacklooksmart

— cardozoenglishhonors (@cardozoenglish1) February 13, 2014