85% of Democratic primary voters rejected Christine Quinn in the mayoral election, but The New York Times still defends its baseless endorsement of a corrupt political hack.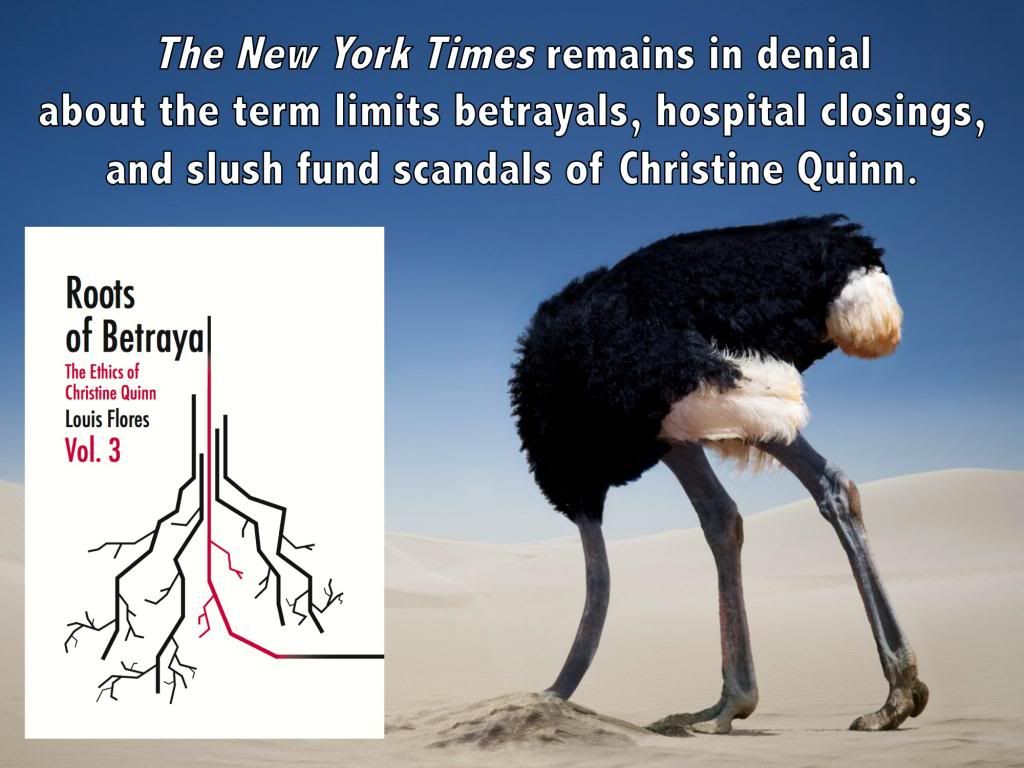 In it's hasty review of political lowlights of 2013, The New York Times reporters Andy Newman and Annie Correal included a brief reference to Christine Quinn's loss in the Democratic mayoral primary.
The newspaper's reporters prefaced the mention of Ms. Quinn's campaign loss by framing her political career as showing "No major ethical lapses here."
The reporters seem to ignore Ms. Quinn's backroom machinations, her term limits betrayals, her enabling of 10 hospital closings in New York City during her speakership, and her slush fund scandal, amongst other ethical lapses, as documented in "Roots of Betrayal : The Ethics of Christine Quinn."
In its round-up of political lowlights, The New York Times seems to rationalize that the corruptive influence of money in politics that marred John Liu's Democratic mayoral campaign didn't also play out during Ms. Quinn's political career when, for example, by January 2013, executives from developers and landlords had donated over $800,000.00 to Ms. Quinn's political campaign for the 2013 election cycle, representing by one estimate to be 14% of the $6 million that Ms. Quinn had raised as of that point for her next political campaign. By this time, Ms. Quinn estimated that New York City had lost a total of 300,000 affordable housing units, and she blamed politicians up in Albany, even though as the City Council speaker, she was in a position to make a difference. But Ms. Quinn failed to deliver greater protections for Mitchell-Lama residents, and she herself accepted lower affordable housing requirements at the Hudson Yards project. Near the end of Mike Bloomberg's mayoralty, it was reported that the billionaire mayor had managed to rezone 37% of the land in New York City. Under Ms. Quinn's leadership, the City Council failed to seize on this opportunity to make affordable housing a priority. As speaker of the City Council, Ms. Quinn had the most influence over land use issues, and the large role that real estate developers had in her campaign finance war chest suggests that Speaker Quinn wasn't about to stand up to developers when they were such a large source of campaign contributions.
So, when The New York Times talks about the corruptive influence of money in politics, it will condemn Mr. Liu for it, but it will stick its head in the sand when it comes to Ms. Quinn. Many believe that the editorial bias that favors Ms. Quinn stems from the former metropolitan editor, Carolyn Ryan, who has since been promoted to the politics editor and has been moved out of town to Washington. Activists have staged protests in the past to denounce Ms. Ryan's editorial bias that seemed to favor Ms. Quinn (VIDEO 1) (VIDEO 2) (VIDEO 3) (VIDEO 4).