The hashtag #walmartfights is like watching a live feed of the hunger games. #maytheoddsbeeverinyourfavour

— Karen Mori (@s0medays_) November 29, 2013
Hunger Games : Poor People Fight To Save $10, Protest For Living Wages
"Videos of Black Friday chaos have also emerged online, with one showing shoppers at an unidentified Walmart getting violent over discount items, according to Mediate," reported The New York Post. (Cop shoots 'thief' as Black Friday violence erupts across country)
Police had to respond to a physical fight amongst customers over TV sets that had been put on sale for the Thanksgiving "war zone" at Wal-Mart. A Wal-Mart associate also tried to distract a customer, who was recording the altercation with his smart phone. (Wal-mart On PR Offensive As Thanksgiving Fights Go Public, With Protests Scheduled For Black Friday)
In another Wal-mart Thanksgiving incident involving a TV, a man had to be subdued by police with pepper-sprayed before he could be arrested after the shopper started an argument with a store manager in New Jersey. (Huge crowds turned out to get an early start on Black Friday shopping in New Jersey)
In still yet another incidence of Walmart shoppers becoming violent, again the sale of TV sets was the main reason for inciting the conflict depicted in this next video :
Coincidentally, the #walmartfights are breaking out during the holiday release week-end of the blockbuster sequel, Hunger Games : Catching Fire, a series of films based on a trilogy of books about poor people having to fight one another for survival. In an eerie similarity, the Thanksgiving and Black Friday fights are being uploaded to YouTube and being shared over social media, reminiscent of how the Hunger Games fights were televised. Is this a form of social conditioning ?
There are an endless number of videos showing up on YouTube, showing Wal-mart shoppers using threats of physical violence, shoving each other, and fighting over sale items. Here's another video, posted on the Web site of The Dallas Morning News, showing a shopper being injured as a result of a melée over DVD players. Police could only restore order temporarily. "All over a $38 Blu-ray player," The Dallas Morning New reported.
Meanwhile, The Huffington Post published an article entitled, "Wal-mart's Black Friday Going About As Badly As You'd Expect."
What kind of irresponsible and violent messages are Wal-mart sending, when shoppers go wild, when stores are described as "war zones," and fights break out ?
Is this the season for giving (black eyes, stabbings, gun shots, and other bodily injuries) over TV sets and toasters on sale ? (It's Black-eye Friday! Man stabbed in row over parking space and shopper shot for his new TV as violent bargain-hunters come to blows)
Protesting For Living Wages, Better Work Conditions
Let's pray for the safety and well-being of the Wal-mart employees, who are put in harm's way, under irresponsible, dangerous, and inhumane working conditions such as these. No wonder activists plan to stage Black Friday protests against the greedy big box retailing corporations.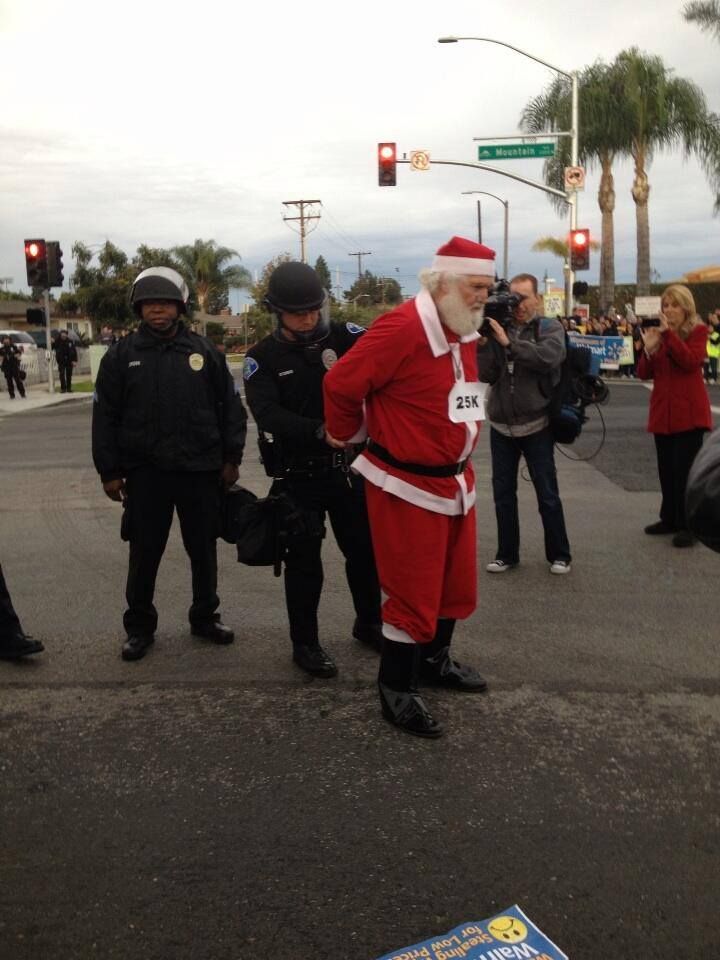 About 150 protesters gathered outside a Wal-mart in Ontario to demand fair wages and better working conditions. (Protest at Wal-Mart in Ontario on Black Friday draws dozens of workers)
Santa arrested at Ontario, California @Walmart? Black Friday, indeed. pic.twitter.com/yi4qdDmrRo

— Tony Pierce (@busblog) November 29, 2013
Here is the video of some of the activism outside of the Wal-mart in Ontario.
Other injury reports, trend in violence
At one Wal-mart, an ambulance had to respond with a stretcher to help the injured.
oh my gosh, a stretcher #blackfriday RT @validmary_: Really? At walmart, smh. pic.twitter.com/M63yXFALDE

— Sapna Maheshwari (@sapnam) November 29, 2013
Thanksgiving shoppers get stabbed, arrested: http://t.co/LgN9xkyUuK #WalmartFights

— CNNMoney.com (@CNNMoney) November 29, 2013
Violence at Wal-mart is part of a long, growing trend. On Thanksgiving Day in 2011, shoving, screams, and hustling over sale items also took place at a Wal-mart store in Brownsville, Texas, as documented in this video :
Remembering the Wal-mart worker killed in a stampede on Long Island on Black Friday 2008.
What does it say when Wal-mart needs to use police officers to provide security, in order for them to put items up for sale on Thanksgiving and Black Friday ?